The Xiaomi Mi A1 according to us is the best smartphone you can buy today under 15K and some of that credit goes to the Android One OS. Xiaomi wanted to check how many users liked the company's Android One take and hence set a poll between its home-made MIUI interface and Android One. The poll went in the favour of Android One with MIUI losing to the Google designed UI 57% to 43%. That didn't go well with Xiaomi and the company has since then removed the Twitter poll from its account. 14,769 people voted for this Twitter poll, which is a sizeable number of people, but still a smaller number compared to Xiaomi customer base.
It is interesting to see this customer response on Xiaomi's MIUI which has been around for quite some time and has an avid fan following. However, XDA reports that Lineage OS, which is a popular AOSP (stock ROM) has the most number of installs in India (leaving unknown). Statistics also show that the Redmi Note 3 and the Redmi Note 4 are among the top ten phones on which the ROM has been installed. China, which does not allow Google services in the country, is the third largest user base for Lineage OS.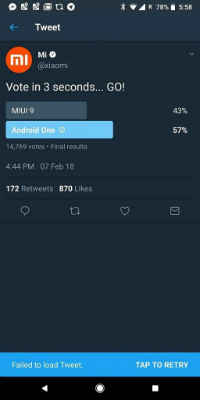 So, it seems with the Xiaomi Mi A1, the company brought what the users were asking for. It is also notable that with a stock Android OS onboard, it is the only Xiaomi phone to offer Android 8.0, which by all measures seems a really good thing.
As of now though, it is hard to say whether Xiaomi will take the feedback from its own Twitter poll and whether we will see more Xiaomi phones to be launched with the stock Android interface.