Both versions of the phone are tipped to come in different variants, with prices starting at CNY 1,999 and CNY 2,599
The launch of the Xiaomi's flagship, the Mi 6 is reportedly just a few weeks away, and a report by GizChina gives us a glimpse at how much the different variants of the smartphone may cost. As per its report, the Xiaomi Mi 6 may be available in three different variants, 4GB RAM/32GB storage, 4GB RAM/64GB storage, and 6GB RAM/128GB storage. The three variants are tipped to cost CNY 1,999 (approx. Rs. 18,900), CNY 2,299 (approx. Rs. 21,700), and CNY 2,699 (approx. Rs. 25,500) respectively.
Aside from this, the report also purportedly reveals the pricing for a larger version for the smartphone called the Xiaomi Mi 6 Plus. Like the standard Mi 6 this variant also is tipped to be available in three variants namely, 4GB RAM/64GB storage, 6GB RAM/128GB storage, and 8GB RAM/256GB storage. These three are expected to be priced at CNY 2,599 (approx. Rs. 24,600), CNY 2,999 (approx. Rs. 28,400) and CNY 3,499 (approx. Rs. 33,100).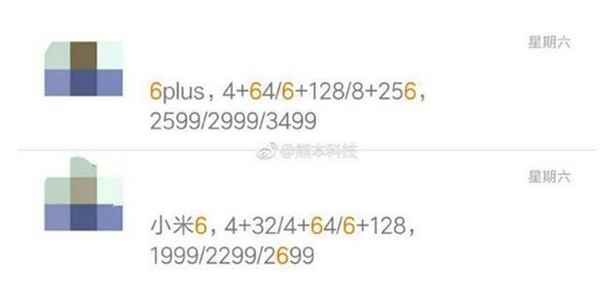 Previous reports have suggested that Xiaomi's new flagship device might be powered by a Snapdragon 835 platform. However, there might also be a variant powered by a MediaTek Helio X30 SoC. Recent leaked photos have also suggested that the device might sport a dual-rear camera setup.
It is not yet know if Xiaomi will launch all versions of the Mi 6 in India. Last year, Xiaomi only launched the 3GB RAM/32GB version of the Mi 5 in India. The company's VP, Hugo Barra (who has since resigned) admitted that not launching the 64GB version of the phone was a mistake.