A new Windows phone, powered by the Qualcomm Snapdragon 820 processor, has been spotted on GFXBench. The phone is called 'HP Falcon', and since there has been little to no news about HP making a Windows-powered smartphone, it is possible that the phone could be an upcoming Lumia smartphone from Microsoft.
The listing shows that the phone has a 5.8-inch display with a resolution of 2560x1440 pixels. It also shows that the device may come with a 20MP rear camera, with a 12MP front camera. Additionally, the listing shows that it may come with 43GB of onboard storage, and just 1GB of RAM.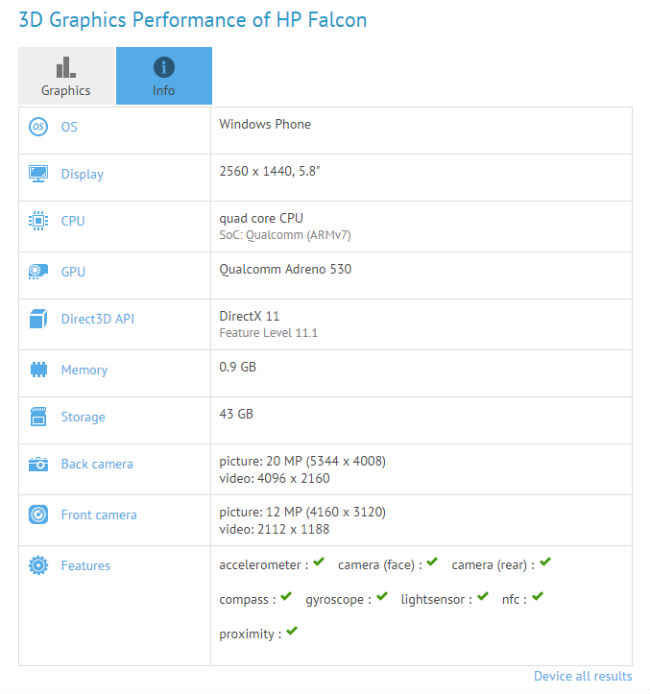 Microsoft has already launched two new flagship Windows Phone devices this year, namely the Lumia 950 and 950XL. While the Lumia 950 runs Qualcomm Snapdragon 808, the 950XL runs on Snapdragon 810. The Lumia 950XL comes with a 5.7-inch QHD display with 3GB of RAM. To combat the heating issues associated with the Snapdragon 810, Microsoft has used a liquid cooling system to ensure that the device does not overheat during heavy performance. In October, rumours suggested that Samsung's engineers were running into heating issues with the Snapdragon 820. It was reported that Samsung was trying to modify the microprocessor control program, to help resolve the issue. If that does not work, Samsung may use heat radiating pipes to improve heat dissipation. However, Qualcomm had refuted these rumours, posting a statement on Weibo, where it said that the SoC meets its design specifications, and the chipset will continue to be improved. The processor has been tipped to be used in the upcoming Samsung Galaxy S7, alongside a possible second variant of the Galaxy S7, which would be powered by the Exynos 8890 SoC.
Qualcomm had officially unveiled the Snapdragon 820 processor last month. The Snapdragon 820 uses a quad-core setup instead of an octa-core setup found on the 810. It comes with Qualcomm's own Kryo cores instead of the traditional ARM architecture. Two of the cores are clocked at 2.2GHz, while the other two can be clocked at either 1.6GHz or 1.7GHz. The company claims that the CPU offers twice the performance as the Snapdragon 810.
Source: Nokia Power User