Microsoft has increased the language support for Windows Phone 8 from 22 languages all the way up to 50 languages. In its blog post, Microsoft says, "Language support was the No. 1 customer request on Suggestion Box for Windows Phone 8. So we kept busy—and now have more than doubled the number of display languages to 50"
The Windows Phone 8 on-screen keyboard works with 50 languages and the speech recognition works with 15 languages and it even supports the Indian accent something that Apple's dictation and Siri failed at miserably.
The 15 languages supported by Windows Phone 8's speech recognition include Brazil, China, France, Germany, Hong Kong, India (English), Italy, Japan, Mexico, Poland, Russia, Spain, Taiwan, United Kingdom and the United States.
The blog post also goes on to say, "While 50 display languages was ambitious, we felt the reading experience required even more. Our goal was "If you can read it on Windows 8, you can read it on Windows Phone 8." To achieve this, we added many fonts and upgraded much of the core code for email, Internet Explorer, SMS, Office, and more to handle complex scripts."
You can take a look at the chart below to see the complete list of languages supported by Windows Phone 8.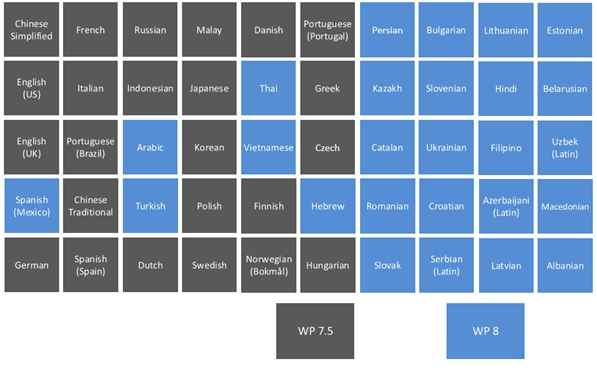 Source: Windows Phone Blog