The Vivo NEX line of smartphones has always been about fancy (and sometimes multiple) displays. Achieving a 100-percent screen-to-body ratio is the big dream for every smartphone manufacturer but poses undoubtedly many challenges along the way. But according to a social media post published by a Vivo NEX Product Manager on Weibo, Vivo may be very close to that much-coveted 100-percent mark. The upcoming Vivo NEX 3 is expected to feature a display with a screen-to-body ratio of 99.6 percent.
As reported by https://playfuldroid.com/vivo-nex-product-manger-says-nex-3-offer-99-6-screen-to-body-ratio/, Vivo NEX Product Manager Li Xiang's post on Chinese social media website Weibo reads, "NEX3's screen-calculated data of 99.6% is calculated according to the general calculation method of the industry, that is, the front display area/cover projection area. There may be some other algorithms, but it doesn't matter." Even with a 0.5-percent margin of error, the Vivo NEX 3 will sport a display that has over a 99-percent screen coverage on its front face.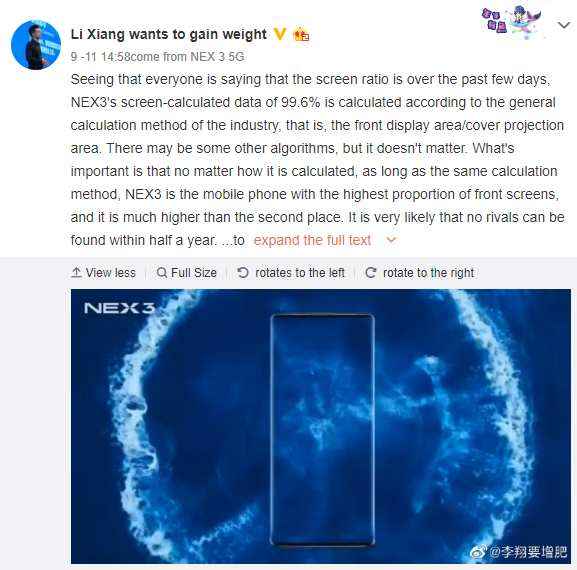 To achieve such a high ratio, the display of the Vivo NEX 3 is expected to flow over the sides of the body, thereby eliminating the left and right bezels altogether. An extremely slim bezel is, however, expected to run along the top and bottom of the smartphone. The Vivo NEX 3 is thus expected to come with a 6.89-inch curved AMOLED screen with a resolution of 1080 x 2256 pixels. Vivo is expected to call this a "waterfall screen".
The complete spec sheet of the upcoming Vivo NEX 3 surfaced online last week (once again on Weibo). According to the sheet, the Vivo NEX 3 will be joined by a 5G-enabled variant called Nex 3 5G, featuring Qualcomm's latest Snapdragon 855+ chipset with up to 12GB of RAM and 512GB of internal storage space. The upcoming Vivo smartphone is also expected to feature a 64MP primary rear camera, a 13MP selfie camera, and a 4410mAh battery, among other features. The variant without 5G, however, is said to pack a 4500mAh battery with support for 44W fast-charging. The Vivo NEX 3 will be launched on September 16.