FCC has recently certified two upcoming Nokia smartphones bearing the model code numbers TA-1057 and TA-1063. The FCC certification documents reveal that both phones will have displays with an aspect ratio of 18:9, a 2,900mAh battery, a 3.5mm headphone jack, and NFC support.
The Product Equality Declaration document submitted to FCC states that the hardware and software on both devices are the same, save for one key distinction: TA-1057 is a single-SIM device, while TA-1063 has support for dual SIM cards. Since these documents don't reveal any more information, one can assume that the two devices are the same phone but will be sold separately as single-SIM and dual-SIM models in the same way Sony had with some of their older Xperia smartphones.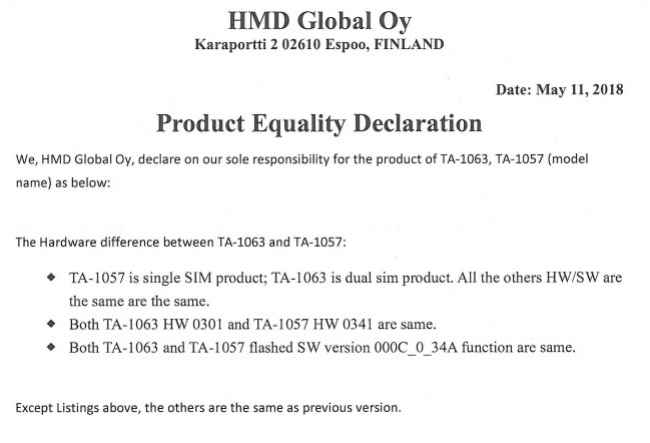 It's hard to say at this point which price bracket these two phones fall under, but judging by their battery capacity, we can speculate that these are mid-range models. Further, some reports were seen saying these two models could be powered by Qualcomm's Snapdragon 600 series SoCs and feature OLED displays instead of regular IPS LCD units, but nothing can be said for sure at the moment.
In related news, HMD Global, the brand owner of Nokia mobile phones, recently sent out press invitations for an event it was planning to host in Russia on May 29. It's unclear which models it plans to unveil during the event and if these two models, TA-1057 and TA-1063 are a part of it.