Even as telecom operators expand their 3G and BWA services in the country, the Telecom Regulatory Authority of India (TRAI) has announced draft regulations to benchmark and monitor the quality of mobile data services offered by the telcos. The regulator already has similar norms in place for voice services.
As per the draft regulations on "Standards of Quality of Service for Mobile Data Services Regulations, 2012, the telecom operators have been stipulated to provide minimum throughput of 90 percent of the subscribed speed on an average.
"The service providers are rolling out 3G services and these services are presently available in all the service areas. With the roll out of 3G and Broadband Wireless Access (BWA) services, the growth rate in cellular mobile telephone service is poised for higher growth, compared to wire line internet users," TRAI said in a release.
"It is necessary to benchmark and monitor the quality of service offered by the service providers of mobile data services with various options open to the implementing agencies so that the interests of consumers are protected."
Overall, TRAI has created as many as nine parameters benchmarks to monitor service providers. The body also intends to conduct audit from time to time. The major benchmarks include service activation within three hours, with at least 95 percent success rate. For data transmission download attempts, rate should be more than 90 percent, and data transmission upload attempts should be more than 85 percent.
Check out the parameters set by TRAI in the table below: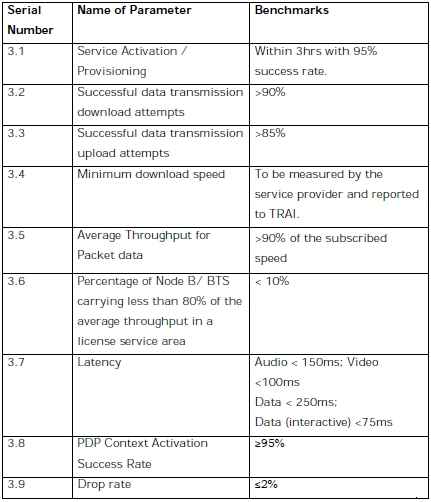 TRAI seeks written comments on the draft regulations from the stakeholders by 25th July, 2012 and counter comments by 1st August, 2012.
To read the full text of the draft regulations, click here.

Also read,