Deal of the day : Oppo Reno 5 Pro 5G available on discounted price
With 8 GB RAM and 128 GB memory, Quad Camera and MediaTek Dimensity 1000+ chip for 5G network speed . Get extra 5% (Upto 500/-) off with Amazon Pay .
Click here to know more
Advertisements
Are you bored with the measly smartphones on sale today? Is Snapdragon 820 with 6GB RAM too slow for you? 23-megapixel main cameras too little for you? From what it seems, some companies are already beyond these… um, rather basic days of smartphone computing. Turing Robotic Industries, the ambitious heads behind the innovative, paranoid Turing Phone, has sent out a newsletter stating the specifications of a smartphone that seems waaaaaaay too extreme to be true.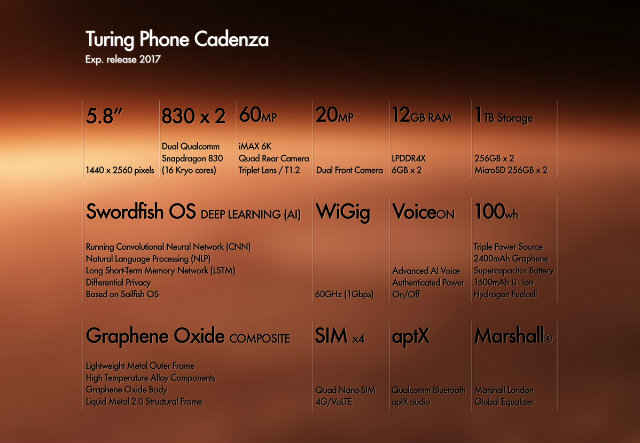 If you do not believe what you see, we'll spell it out for you again. The Turing Phone Cadenza, scheduled for launch some time in 2017, will reportedly be powered by TWO Snapdragon 830 SoCs, each of which will reportedly comprise EIGHT Kryo cores each, 12GB of DDR4X RAM, 1TB of storage, 60-megapixel quad rear camera with "Triplet Lens / T1.2" (they possibly meant f/1.2), TWO 20MP front cameras, a graphene oxide composite body, Marshall-powered audio, and compatibility with four SIMs.
Once you have absorbed all of that, it may be time for bigger things to discuss. Turing's mailer is undersigned by CEO Steve Chao, which makes matters pretty official. Qualcomm, meanwhile, seems certainly far from unveiling a Snapdragon 830 SoC. We're still at Snapdragon 820 on the best of our phones, or Snapdragon 821 at max (which is not commercially available yet, either). Never mind that, some of the technology that TRI has stated simply seems out of the world. For instance, the smartphone will reportedly be able to take 60-megapixel photographs and record 6K resolution videos (like, seriously?!). It will have three batteries - one 1600mAh Li-ion cell, one 2400mAh Graphene supercapacitor cell, and one Hydrogen fuel cell.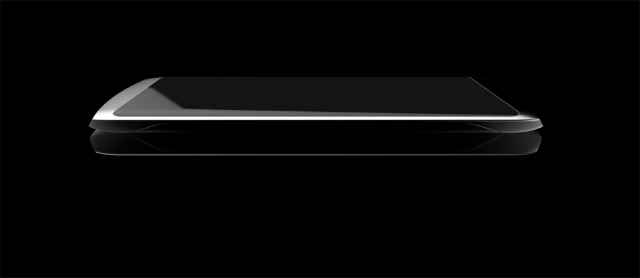 The phone will be based on Swordfish OS with Deep Learning, under which TRI has specified Running Convolutional Neural Network, Natural Language Processing, Long Short Term Memory Network and Differential Privacy (English translation = It will be very intelligent and advanced). Aptly named The Outer Blueprint, the Turing Phone Cadenza is a part of TRI's conceptualisation of the next generation mobile devices. This is what Turing Robotic Industries want the future of flagship smartphones to look like, and while all of this looks a bit too outlandish right now, there's no ruling out of the possibility that this may indeed be realised some time soon.
The initial Turing Phone had garnered good initial impressions, although it has since been hit with several delays in shipments because of various reasons. The ones who have already paid for the Turing Phone have recently been assured that the remaining orders will be shipped out by September 15, and we certainly hope TRI lives up to its promise, before embarking on what seems to be an uphill, daunting task of assembling next gen technology, some of which have not even been announced yet.