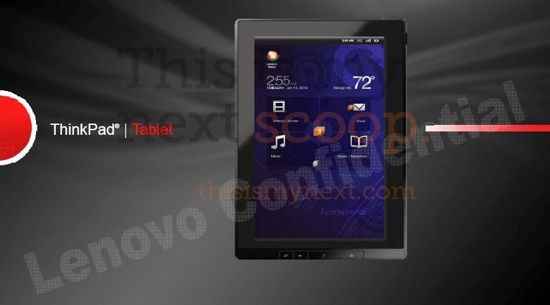 A leaked PowerPoint presentation procured by ThisIsMyNextSite has revealed that Lenovo is developing other tablets apart from its U1 Hybrid. The first of these is called Lenovo ThinkPad Tablet or the Think Slate, which runs Android 3.0 Honeycomb. The Think Slate is powered by a dual-core Tegra 2 SoC, and has a 10.1-inch IPS display, with a resolution of 1280x800 pixels.
Bearing both front and rear cameras, it comes in three storage configurations, 16, 32 and 64GB. The capacitive N-Trig touchscreen will also support a stylus, what Lenovo calls a "true pen," for both "sketching and note-taking." It will offer both Wi-Fi and 3G connectivity, as well as a wealth of ports and slots – USB 2.0, microUSB, SD card, and mini-HDMI. The tablet will also come with a "keyboard portfolio case," which will presumably transform tablet into another tablet-laptop hybrid.
[RELATED_ARTICLE]The Think Slate will run Lenovo Family UI on top of Honeycomb, geared towards the enterprise with plenty of productivity, connectivity, and security features, including software from Cisco, Computrace, McAfee, and Symantec. The Think Slate should be arriving by Q3 2011.
Another Lenovo tablet was spotted, an unnamed Tegra 2-powered Honeycomb device with a 7-inch 1280x800 pixel high resolution screen. As seen in the roadmap slide below, which is thought to be more than a few months old, the tablet may run Le OS instead of Android, but that seems quite unlikely now. It is expected to release in Q4 2011.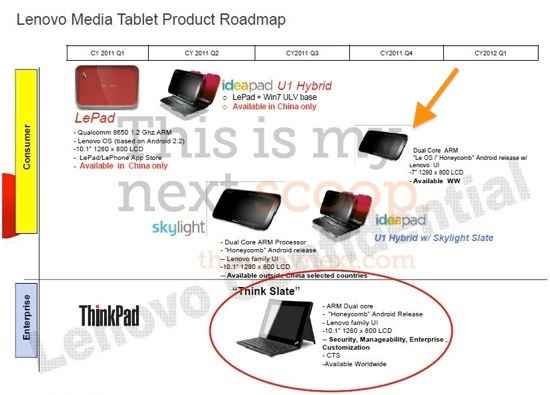 Image courtesy: This Is My Next Site