Samsung kicked off a new smartphone segment with the launch of the Galaxy Fold. With a flexible display, six cameras and a whole new form-factor, the Galaxy Fold ushered in a new era of industrial design for smartphones. Even though it was riddled with design issues, Samsung went ahead and launched in the market. In India, the Galaxy Fold can be grabbed for Rs 1,64,999. Now, it seems like Samsung is planning to continue making foldable smartphones. We have reported that Samsung is working on more foldable devices and the company has just teased a vertically folding smartphone. At the Samsung Developer Conference 2019 in the United States, the Korean giant has unveiled a new design for a smartphone that folds into a square.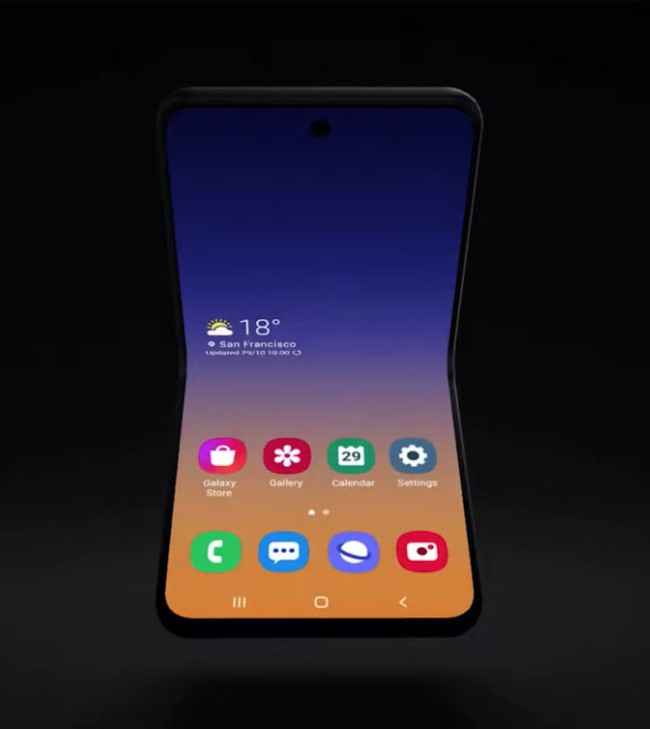 The new form factor is a completely different approach from that of Galaxy Fold. It folds vertically, like the old flip phones. The teased device is interesting as instead of unfolding into a tablet, it unfolds into a tall smartphone and folds into an easily pocketable device. The new Galaxy Fold is reported to carry the model number SM-F700F and it could come equipped with 256GB of internal storage.
Going from phone to tablet is handy for specific tasks, but a vertical foldable phone could be a more desirable form factor as it makes the smartphone more pocketable.
Earlier, it was reported that Samsung is indeed building a foldable smartphone that folds vertically. However, the patent revealed the design to be similar to Huawei Mate X, that is, a display that would fold outwards. The patent published by WIPO (World Intellectual Property Office) in August showed how the design could possibly work in practice. It said, "in its folded position, the device would fold with the display outwards like the Huawei Mate X – thus taking up a smaller footprint, while still allowing parts of the display to function for other tasks." However, the teased device seems to be different than this concept.
Nothing can be said on price and availability as of now. However, Samsung is expected to release a foldable flip phone-style smartphone early next year. We may get a glimpse of it during the launch of Galaxy S11.