#IBMCodePatterns, a developer's best friend.
#IBMCodePatterns provide complete solutions to problems that developers face every day. They leverage multiple technologies, products, or services to solve issues across multiple industries.
Click here to know more
Advertisements
Spice Mobiles launched two more phones in the Stellar range, the Stellar 520 and Stellar 526, at a press event today in Noida. The company claims that the Stellar 526 is the first true hexa-core processor powered smartphone.
Stellar 526
Price: Rs 11,499
The Stellar 526 uses a hexa-core Mediatek SoC clocked at 1.5 GHz with 1GB of RAM. The phone has a 5 inch 1280 x 720p HD "in-cell" display which is quite pleasant to look at and this is the same technology which is rumored to be used in the upcoming iPhone 6. It comes with 8GB ROM and is expandable upto 32GB via a microSD card. The 8 MP camera at its back has autofocus with live-camera mode, object tracking, zero shutter delay and it also has a 3.2 MP Front facing camera. The company also claims that the phone can play HD videos at 60 fps. With a hexa core processor on tap the phone can and should deliver in its gaming capabilities. The phone comes with Android 4.4 KItkat out of the box. The whole package is run by a 2500mAH battery.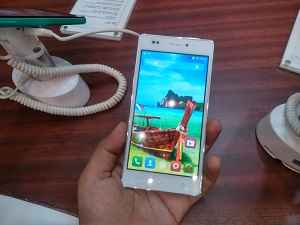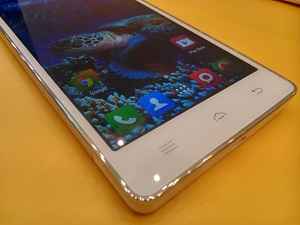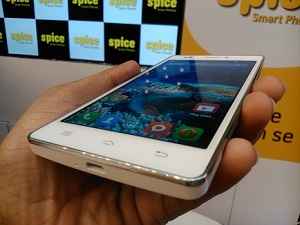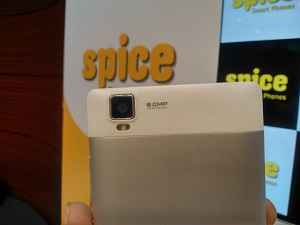 As for the build quality, the phone looks and feels fairly sturdy. The power button and the volume rocker are located on the right side of the device, the 3.5mm headphone jack is located at the top, and the USB port is at the bottom of the device.
Stellar 520
Price: Rs. 8,999
The Stellar 520 stands a notch below its hexa-core brother. The Stellar 520 packs a quad-core Mediatek SoC clocked at 1.3 GHz accompanied by 1GB of RAM. It has a 1280 x 720p resolution 5-inch One Glass Solution (OGS) screen. This reduces the thickness of the screen itself and increases the sensitivity of the screen. The phone comes with 4GB ROM which is expandable upto 32GB via a microSD card. It comes with an 8 MP primary autofocus camera and a 2 MP secondary camera for video calling and selfies. The phone is available in two colours- red and yellow, and ships with a grey flip cover. The phone is powered by a 2000mAH battery which Spice claims delivers talk time of more than 4 hours.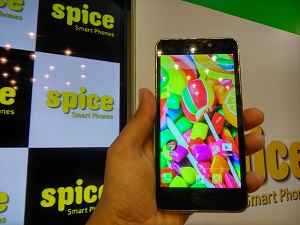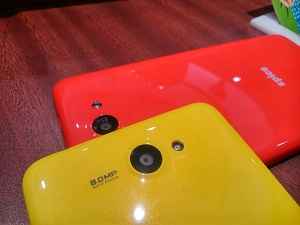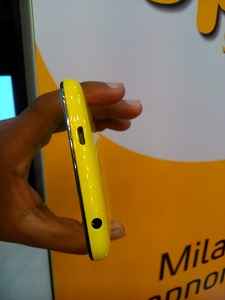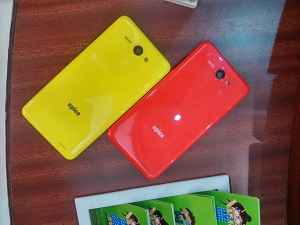 The build quality of the phone was a bit slippery due to its glossy plastic back. The grey flip cover might change that but I was not able to get a hold of that at the event.
Both phones are available via Spice Hot Spots and e-commerce website Saholic from today.