Make 2021 your best year with IBM Developer
Make 2021 the year where you truly shine, grow, build & Code. Get support and motivation from the IBM Developer community. #IBMDeveloper #CodePatterns
Click here to know more
Advertisements
Spice has launched a new touch screen dual-SIM phone called Flo Me M 6868n. Priced at Rs. 3,900, the Spice Flo Me M 6868n features 3.5 inch capacitive touch screen, 312 MHz processor and 1,150 mAh battery.
The new Spice device also has a 3.2MP camera. Based on Cosmos UI, the Spice Flo Me M 6868n comes pre-installed with social networking applications and various multimedia features. "S Apps Planet", which allows you to explore your social feeds with in-built Facebook application and Push mail service. Other features include WI-FI connectivity, FM Radio and expandable storage support. To know more about the Spice Flo Me M 6868n, click here.
"There has been a growing demand for affordable touch screen phones which can do so much ranging from multimedia to social networking to even your official work. Flo Me - M 6868n is a result of our endeavor to provide the youth not only a good multimedia experience but a stylish and feature packed product," says Kunal Ahooja, Global Head – Devices, S Mobility.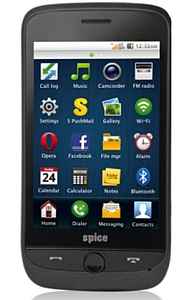 Also read,
Spice Mobility launches FLO-TV M-5600 with free-to-air reception
Android 2.3-based Spice Mi-280 launched at Rs. 5,123