OnePlus TV 32Y1 - Smarter TV
Android TV with superior craftsmanship and elegant design - Buy Now
Click here to know more
Advertisements
As the Mobile World Congress nears, Sony has released a pretty cryptic teaser for its Feb 26 launch event. Till now, rumours have pointed to an Xperia flagship devices called the Xperia XZ2 and the Xperia XZ Pro. However, if a recent report is to be believed, Sony has been secretly working on a last minute design overhaul for the flagship smartphone it plans to announce at the MWC launch event. That's where the new teaser fits in. The teaser Tweeted out by the official Sony Xperia handle shows ripples cascading downwards with an outstretched hand underneath. Speculation is rife that Sony could be teasing a departure from its old rectangular, boxy smartphone design and finally moving onto flexible displays or the curved design adopted by most modern smartphones of the day.
The ripples shown in the new Sony teaser could also refer to sound ripples hinting at the smartphone's audio chops. However, the presence of the hand with the ripples settling into it could most likely refer to a design change than anything to do with audio. Is it a curved OLED display Sony is hinting at? Or a 2.5D glass display with curved edges? Only time will tell.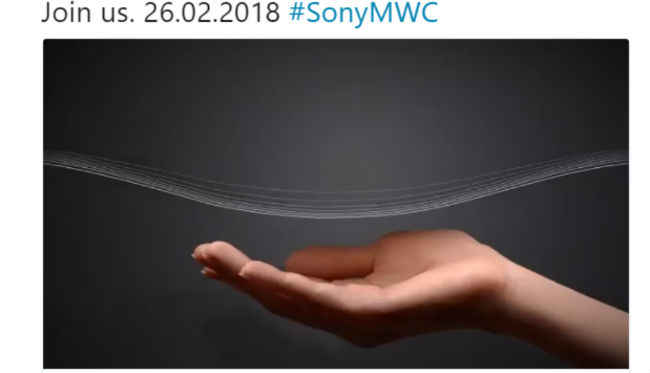 Previous rumours indicate that the Sony flagship could be powered by the Qualcomm Snapdragon 845 chipset based on the 10nm FinFet process. SD 845 has a new Spectra 280 ISP which supports 4K encoding in 60fps. That combined with Sony's imaging chops could be an interesting combination to watch out for. We can expect the 2018 Xperia flagship to support Super Slow-mo abilities, carrying forward from the legacy of its predecessors. The new Sony phone could carry 6GB RAM and 128GB storage. It might offer an 18MP + 12MP dual-cam setup at the back and a 13MP rear camera. The smartphone is also tipped to feature a 3420mAh battery and IP68 certification for water and dust resistance.