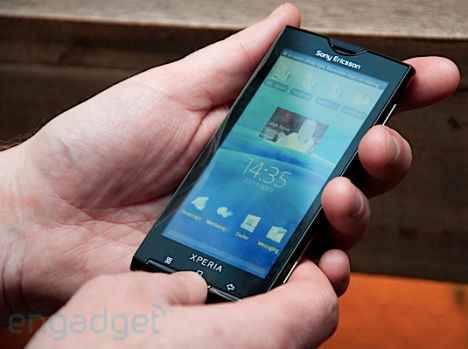 Yesterday, we stumbled upon a new video of the Rachael UI that the upcoming Android-packing Sony Ericsson Xperia X3 was supposed to have. Well, the company launched the phone today and changed two things while at it: First, it's now called the Xperia X10 (presumably so that it isn't confused with the Nokia X3) and second, the Rachael UI has now been renamed the UX (short for User eXperience), due to some legal loopholes.
Launched at an event in the UK, the early prototype of the Xperia X10 didn't get the reaction we expected. Sony has upped the ante in the hardware department for Google Android phones with this new offering, throwing in a powerful 1GHz Snapdragon processor, an 8-megapixel camera, and a large 4-inch screen.
"Another thing that Snapdragon can do, apparently, is eat through your phone's battery. Again, we are dealing with a pre-production model here, but the number of power issues and the near-permanent attachment to the charger of the one device on show did not bode well for this phone's endurance,"
Engadget
writes.
The new UX interface does what the Sense UI did for HTC phones and MotoBlur for Motorola Droid and CliQ, and sports nothing new. It does manage to do a good job of features already present in the other interfaces, such as TimeScape, which collate alls information related to a contact when you click on it – last few messages, call records, emails, Twitter, Facebook, etc. However, on the prototype model, it left a lot to be desired.
"Usually we'd like to tell you how well this stuff works in action, but sadly we were treated to the worst of demo software today – laggy, slow and downright unusable at times. We're a little worried that Sony Ericsson won't make full use of the Snapdragon processor,"
TechRadar
wrote. "However, we're assured that such fears are unwarranted, and we have to say that the X10 was slick when it decided to speed up a little bit."
Sony Ericsson told
Trusted Reviews
that the Xperia X10 would most probably be shipping somewhere around February, and come with Android 1.6 out of the box, instead of the much-liked Android 2.0 that the Motorola Droid sports.
Here's the full
press release
in case you are interested. Let us know your take on the Xperia X10 in the comments section below...