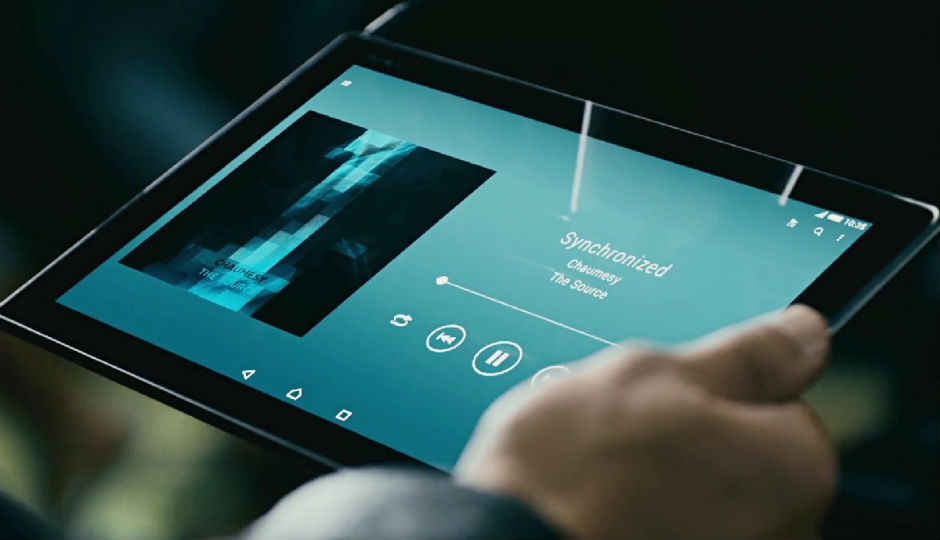 HIGHLIGHTS
The Xperia Z4 tablet was accompanied by a Bluetooth Speaker, Bluetooth Keyboard and a smart cover by Sony.
There's no new Xperia Z4 smartphone at the MWC, but Sony has announced an all new tablet in its place. The new Xperia Z4 Tablet is the company's successor to the high-end Xperia Z2 Tablet. The device has a 10.1 inch Quad-HD IPS display and runs on Qualcomm's new Snapdragon 810 SoC. It has 3GB of RAM, 32GB internal storage and runs on Android 5.0 Lollipop. Sony is also boasting the thin profile of the tablet, which stands at only 6.1 mm. This is the same as Apple's iPad Air 2, only the Xperia Z4 Tablet is lighter, weighing about 393 grams for the LTE model.
Further, Sony has also put an 8MP rear camera in its device, along with a 5MP wide-angle front camera. Powering all of this is a 6,000 mAh battery, which Sony says will last through 17 hours of video playback. Also, like Sony's newest generation of devices, the Xperia Z4 Tablet is also IP68 certified, meaning it is waterproof and dust-proof.
While the pricing for the Xperia Z4 is yet to be announced, it will be available globally in WiFi and LTE models from June this year. Sony also announced three new devices alongside the Z4 Tablet. These include the Sony BKB50 Bluetooth keyboard, the Sony BSP60 Smart Bluetooth Speaker and the Sony SRC32 Smart Tablet cover.
Source: The Verge