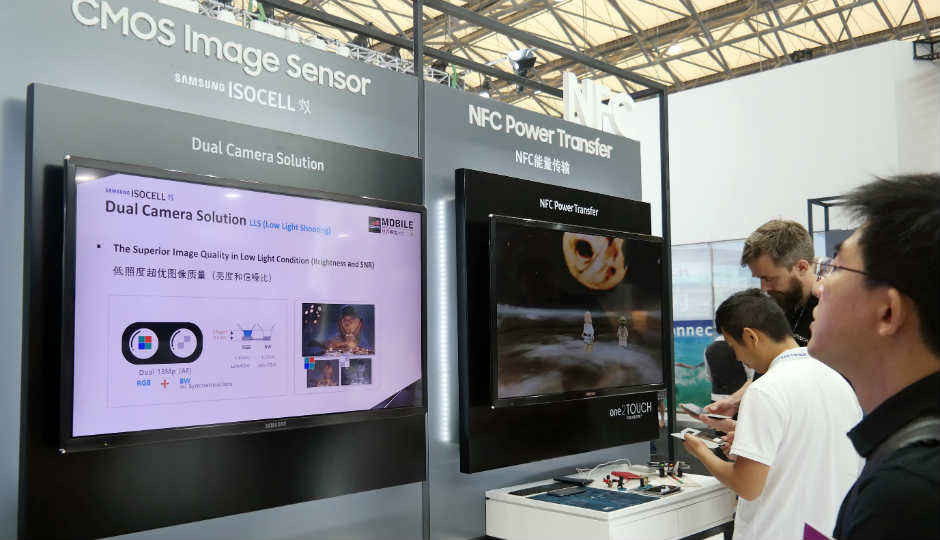 HIGHLIGHTS
The company showcased four new sub-brands under ISOCELL, including one aimed at dual-rear camera smartphones, which could be used in the upcoming Samsung Galaxy Note 8 smartphone
Samsung has been tipped to finally join the dual-camera bandwagon and we might have gotten our clearest hint of this happening sooner rather than later. At MWC Shanghai, Samsung unveiled its new image sensor brand, ISOCELL and showcased four of its sub-brands. These are called Bright, Fast, Slim and Dual.
ISOCELL Bright is said to deliver bright and sharp images with high colour fidelity and reduced noise in low light environment, while ISOCELL Fast is aimed at providing fast autofocus speeds on still or moving objects, even when it's dark. The ISOCELL Slim sensors are aimed at thin devices and uses the smallest pixel sizes available in the in the market at 0.9um to 1um, while still producing high quality images. The ISOCELL Dual sensors are aimed at the trend of dual cameras and allows the sensors to be mixed and matched in various combinations.
"Samsung ISOCELL is a brand that represents the essence of our leading pixel technologies. We expect the ISOCELL brand to help consumers easily acknowledge and confide in camera performance as well as overall quality of the device," stated Ben Hur, Vice President of System LSI marketing at Samsung Electronics. "With our advanced image sensor technologies, Samsung will continue to bring innovation to cameras used in smartphones and other applications."
The upcoming Samsung Galaxy Note 8 has been tipped to sport a dual-rear camera setup and it is possible that the device be one of the first to utilise these new ISOCELL sensors, specifically ISOCELL Dual. The company is one of the few major manufacturers to not have device with a dual-rear camera setup. OnePlus recently joined the dual-camera bandwagon with the OnePlus 5. The device sports a 16MP and 20MP camera combination with one wide-angle lens and the other offering 2x lossless zoom.