Highlights:
Patent shows Samsung developing phone that wraps around the wrist.
It is reported to have two magnets on top and the bottom edge.
It will fold only in one direction.

Samsung, along with some other players, has already created ripples in the smartphone market by launching a foldable phone called the Galaxy Fold. The South Korean tech giant now seems to be working aggressively in that direction, and according to a patent, it is now developing a phone that can wrap around a person's wrist, as well as work as a normal candybar phone. Samsung may have just patented the device and may never launch it officially.
The patent, filed last week with the World Intellectual Property Organization, shows that the phone has an all display design that bends into a thick wristband using a threaded metal chassis, similar to what is found in watches with metal straps. The display is said to bend in only outwards direction and will join with the help of powerful magnets on each end of the phone. The patent notes that the SIM card will be on the top and a USB-C port will be on the bottom.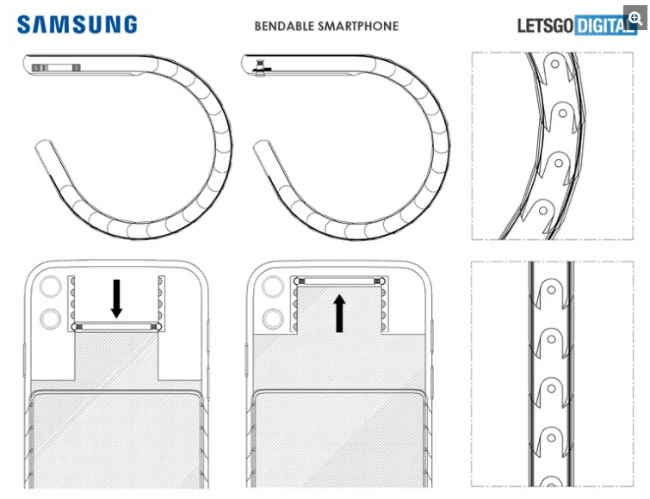 The news comes a day after a patent showed that Samsung is working on a new foldable device with a different design than the recently-launched Galaxy Fold. While the Galaxy Fold folds inwards like a clamshell device, this particular phone in development will fold outwards keeping the large display outside. This is said to be the one of the two foldable phones that Samsung is said to be working on.
Previously, Bloomberg reported that Samsung is now working on two more foldable devices seeking an early lead in the new and untested market segment. Citing people familiar with the matter, the news agency reported that the South Korean tech giant is developing a clamshell-like device and another that folds outwards. The description of the latter matches with the one that is discussed in the patent mentioned above.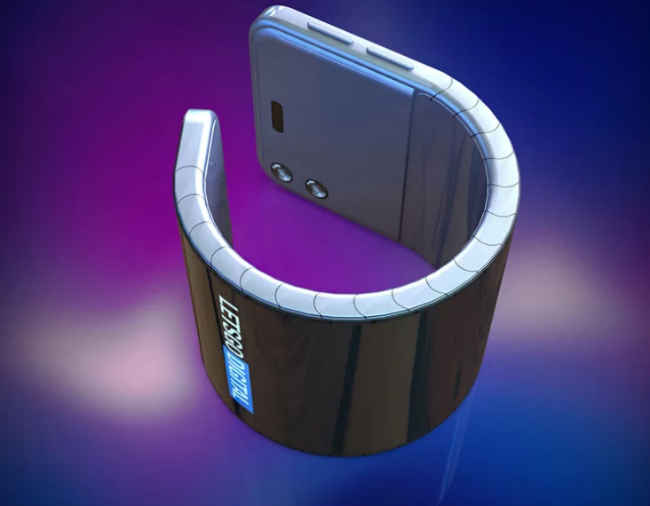 At MWC, Nubia launched its Alpha smartwatch-cum-smartphone that has a 4-inch flexible OLED display. It's equipped with Bluetooth, Wi-Fi, and e-SIM support for texts and calling. The Nubia Alpha is expected to go on sale in April this year for a starting price of 449 euros (approx Rs 36,200). The Nubia Alpha comes with a 5MP camera with "clever UI shortcuts", like tapping the display takes a photo, and a long-press starts recording a video.
The Nubia Alpha is powered by Qualcomm's Snapdragon Wear 2100 platform. It has 1GB of RAM and 8GB of onboard storage, which the company claims is sufficient for over 1,000 songs, 2,000 short videos, or 6,000 pictures. It's 500mAh battery is said to deliver up to two days of run time. The Nubia Alpha also sports smartwatch features like activity tracking, heart rate monitoring, and music streaming via Bluetooth.
Related Read:
Samsung Galaxy Fold confirmed to launch in India, likely to be more expensive than $1980