Samsung has a lot brewing in its smartphone kitty, or so it seems from all the leaks and rumours surfacing on the web. The latest reveal comes in the form of a patent acquired by Sutch tech website, LetsGoDigital.
The patent was reportedly filed by Samsung and published in the WIPO (World International Property Office) database. It shows a new Galaxy smartphone design with a 180 degree curved display, all the way to the back of the device. Tech companies like Samsung, Apple file many such patents without little confirmation if they will ever see the light of the day. What's different about this patent is that Samsung also lists a production method for the smartphone with a 180 degree curved display, indicating that the Korean tech major may actually bring the device to market.
Patent application made in May this year shows images of the smartphone shaped device with a curved display on all sides, but unlike Samsung's existing curved edge offerings like the Galaxy S8 and Note 8, the curved screen of the device in the patent stretches all the way to the back. In the patent, Samsung also describes the new design saying that it will make for a better grip.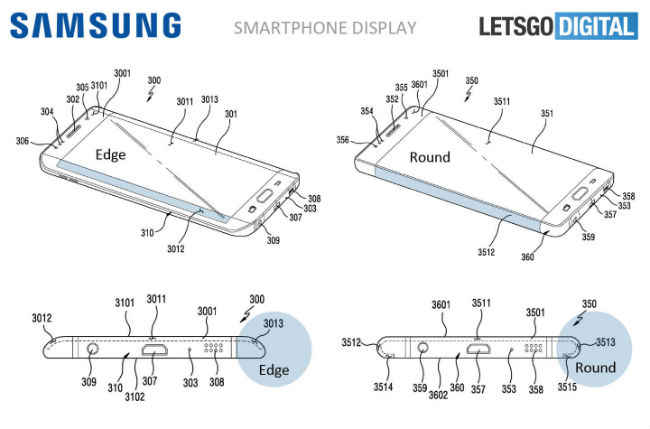 Samsung 180 degree rounded edge patent image courtesy LetsGoDigital
Samsung is expected to unveil its 2018 flagships, the Galaxy S9 and S9 Plus, earlier than usual. The Galaxy S9 and S9+ may arrive as early as CES 2018 alongside the mystery foldable smartphone, the Galaxy X.
Samsung recently announced that it has started the mass production of the second gen 10nm SoC, which could be the Exynos 9810 expected to feature on the upcoming Galaxy S9 and S9+. The news further hints at an earlier than usual launch of the two smartphones.
Main Image courtesy: LetsGoDigital