Samsung has announced a new mobile processor, the Exynos 2200. The Exynos 2200 is the company's freshly designed mobile processor with AMD RDNA 2 architecture-based Samsung Xclipse graphics processing unit (GPU). The chipset comes with Arm-based CPU cores and an upgraded neural processing unit (NPU). This, the company claims will help the Exynos 2200 bring to life the ultimate mobile phone gaming experience, as well as enhance the overall experience in social media apps and photography.
Samsung Exynos 2200 launched
"Built on the most advanced 4-nanometer (nm) EUV (extreme ultraviolet lithography) process, and combined with cutting-edge mobile, GPU and NPU technology, Samsung has crafted the Exynos 2200 to provide the finest experience for smartphone users. With the Xclipse, our new mobile GPU built with RDNA 2 graphics technology from the industry leader AMD, the Exynos 2200 will redefine mobile gaming experience, aided by enhanced graphics and AI performance," said Yongin Park, President of System LSI Business at Samsung Electronics. "As well as bringing the best mobile experience to the users, Samsung will continue its efforts to lead the journey in logic chip innovation."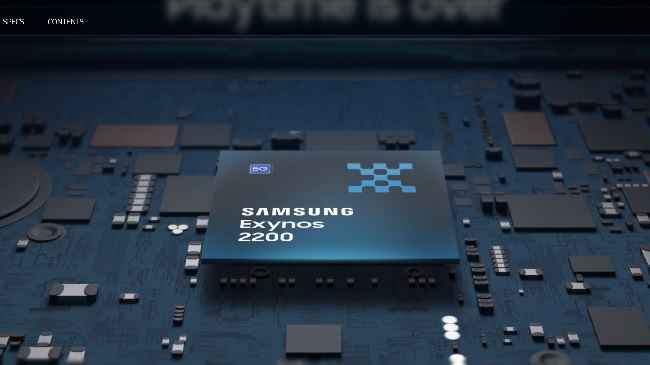 Samsung claims the Xclipse GPU is a one-of-a-kind hybrid graphic processor that is positioned between the console and the mobile graphics processor. Xclipse is the combination of 'X' that represents Exynos, and the word 'eclipse'. Samsung says that like an eclipse, "the Xclipse GPU will bring an end to the old era of mobile gaming and mark the start of an exciting new chapter."
Samsung Exynos 2200 to come with Xclipse GPU
For this, it will use the high-performance AMD RDNA 2 architecture as its backbone, which will bring advanced graphic features such as hardware-accelerated ray tracing (RT) and variable rate shading (VRS) that were previously only available on PCs, laptops and consoles. In addition, the Xclipse GPU comes with various technologies such as advanced multi-IP governor (AMIGO) that enhance overall performance and efficiency.
"AMD RDNA 2 graphics architecture extends power-efficient, advanced graphics solutions to PCs, laptops, consoles, automobiles and now to mobile phones. Samsung's Xclipse GPU is the first result of multiple planned generations of AMD RDNA graphics in Exynos SoCs," said David Wang, Senior Vice President of Radeon Technologies Group at AMD. "We can't wait for mobile phone customers to experience the great gaming experiences based on our technology collaboration.
Also Read: Samsung Galaxy M33 5G, Galaxy A33 5G and Galaxy A53 5G spotted on BIS website