Top reasons why you must attend #KubeSummit 2021
Get a detailed walk through on scheduling & automating deployment & scaling of #Containerized Apps. Register for #KubeSummit 2021 today. March 19-20
Click here to know more
Advertisements
Looks like Samsung is swiftly realizing the potential market for dual-SIM phones – there've been reports online carrying a leaked picture of an as yet unofficial Galaxy Y Pro Duos, a QWERTY-based dual-SIM that should have nearly identical specs with the Galaxy Y Pro (not yet released in India) and the Galaxy Y.
Ironically, the leak comes day after the launch of Micromax's latest budget Android offering. Readers had recently started unfavourably comparing the newly launched Micromax A75 Superfone Lite (Rs. 8,999 MRP) with the Galaxy Y (Rs. 7,830 MRP), but grudgingly admitted the added benefits of dual-SIM connectivity. The Y Pro Duos of course, will feature a QWERTY keyboard in addition, if launched.
For now, no concrete information is available about the actual existence of the Galaxy Y Pro Duos, or about its pricing and availability. As is the case with most Pro models, we can safely assume the specs of the Galaxy Y and its Pro Duos variant will be nearly identical. A front-facing camera is noticeable however.
For more information about the specifications of the original Galaxy Y and the Galaxy Y Pro, refer to our previous coverage. Do also check out our coverage of the Micromax A75 Superfone Lite, to get an idea of what all the fuss is about.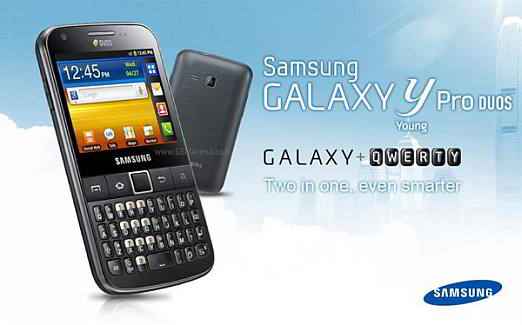 Source, image courtesy: GSMArena

Vote and Win!

Digit Icons of Trust 2011 Survey

Visit http://thinkdigit.com/trust to vote for your favorite tech brands in India.
Survey participation gives you a chance to win exciting gifts like wireless input devices, earphones and special edition Digit branded T-shirts.
As an appreciation of your valuable time and input, every participant will receive an assured gift in the form of Digit discount vouchers.
We encourage you to participate in multiple surveys to increase your chances of winning more goodies.