Samsung's New Galaxy Tab S7 Lite was spotted on Geekbench. The tablet is running on Snapdragon 750G processor. Samsung is expected to launch the tablet sometime in June this year

Geekbench is usually a very good platform to spot upcoming devices. A lot of unannounced devices including smartphones, laptops, and tablets visit Geekbench when someone ends up running the benchmark while testing it before the release. This time, a new Samsung tablet has shown up on Geekbench, revealing some key specifications.
The tablet in the discussion here is the Samsung Galaxy Tab S7 Lite. It popped up on Geekbench with model number SM-T736B. This is said to be the 5G variant of the table, and it looks like Samsung will end up bringing the Wi-Fi and LTE variants too.
Looking at the listing, the tablet seems to be running on the Snapdragon 750G chip with a base frequency of 1.80Ghz. The SoC is coupled with 4GB RAM, and it is running on Android 11 OS. As you can see, the device has managed to show a single-core score of 650 and a multi-core score of 1694. Here, check it out -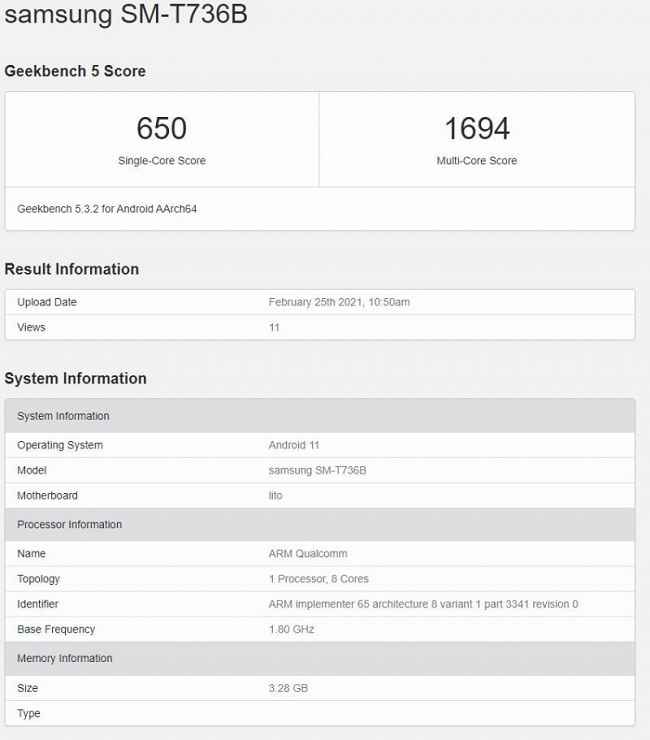 This is the same processor that's also powering some other phones like the Xiaomi Mi 10i 5G, Motorola Moto G 5G, and many others. It's a very capable processor, so it'll be interesting to see how the tablet will perform when it comes out.
This isn't the first time we're hearing about the Galaxy Tab S7, by the way. An earlier leak had pointed that the tablet will arrive with a 12.4-inch display, and it will be packed with some good features like 5G support and Samsung's Galaxy Continuity that lets users use the tablet as a secondary device with a Galaxy phone.
The Galaxy Tab S7 Lite should be an interesting offering considering the fact that the original Galaxy Tab S7 and the Galaxy Tab S7 Plus were excellent devices. The Galaxy Tab S7 Lite is speculated to come out sometime in June this year, so let's wait till we get more info about the device leading up to its launch.