Samsung is finally selling the Galaxy S5 Mini smartphone in India. The device is available on Flipkart for Rs. 26,499. The device is a smaller version of the company's flagship Galaxy S5 smartphone, but comes with a more affordable price tag.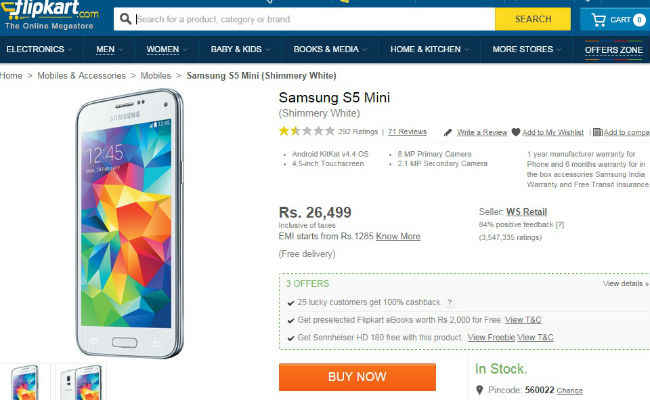 The Galaxy S5 Mini runs on Android 4.4 KitKat and is powered by a 1.4 GHz quad-core processor and 1.5 GB of RAM. It has 16 GB of internal storage, which can be expanded up to 64 GB. It also has an 8 MP rear camera and a 2.1 MP front camera with a 4.5 inch 720p Super AMOLED display.
At the price that Samsung is asking, the device doesn't seem like a very good option, considering the specifications. In fact, the Moto X (2nd Gen), which is going to be launched in India by the end of the year, boasts a 1080p display with the Snapdragon 801 SoC clocked at 2.5 GHz. There are also some other options, like the HTC Desire 816, that offer better value than the S5 Mini.
Buy Samsung Galaxy S5 Mini from Flipkart at Rs 26,499/- only