Leaks courtesy case makers for the Galaxy S IV show the phone will have a slight design variation when compared to the older Galaxy S III
The Samsung Galaxy S IV is just a mere six days away from launch and everyone is just brimming with excitement. If you're one of the excited crowd, then you'll appreciate this little leak that comes courtesy of manufacturers in China.
We're seeing images of prototype cases for the Galaxy S IV courtesy MobileGeeks, and looking at them, one can make out that the upcoming phone won't be radically different from the S III in its form factor. A close look at the edges reveals that while the S III had smooth, curved edges, the S IV will have a sharper bend. The thickness, no matter how hard and long one looks, seems to be the same in both the phones, at least judging from their respective cases.
The Galaxy S IV is the next highly anticipated flagship from Samsung and is rumoured to have at least two variants, one with the Snapdragon 600 processor and the other sporting the Samsung Exynos 5 octa-core chip. Regardless of what processor it has, we know that it will at least be a quad core (if not octa-core) and also include 2 GB of RAM and come in various onboard storage capacities. If the S III is anything to go by, then we can also expect the Galaxy S IV to support 64GB microSD cards to boost the total capacity.
Of course, till Samsung actually announces the phone on March 14 at the event being hosted at Times Square in New York, one can't really be sure of what the phone will look like or what specs it will finally ship with. For all we know, these leaks could be based on an early prototype that Samsung chose to not go with.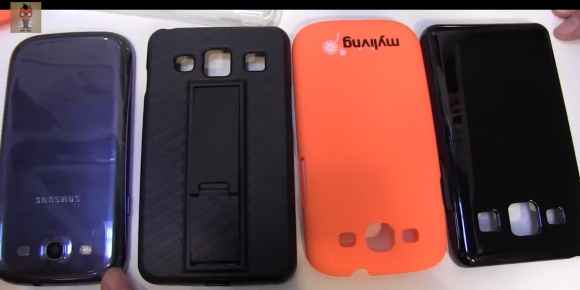 Source: MobileGeeks