It's no more a secret that Samsung is working on the Galaxy Note 10. Hi-res renders have leaked out the design that Samsung is going to introduce. And this time around, the Galaxy Note 10 will be joined by another more powerful Galaxy Note 10 Pro. While all this was pretty much known for a while, a new report from South Korea claims Samsung will officially announce the Galaxy Note10 on August 10 this year.
The Galaxy Note 9 last year was launched on August 9 and the company was largely expected to launch the successor on the same month. The report now claims the Galaxy Note 10 will come a day after, on August 10.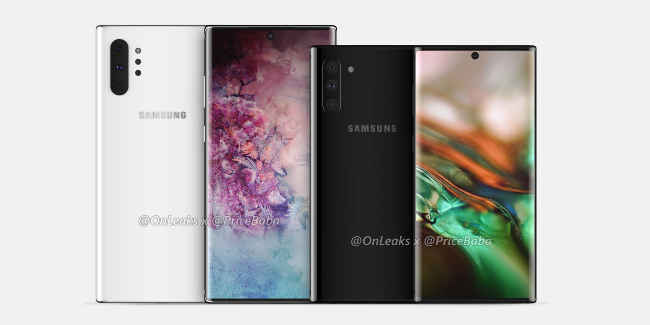 Courtesy: Onleaks
We recently saw the renders of the Samsung Galaxy Note 10 and the Galaxy Note 10 Pro. Based on them, it's clear that the two variants will sport a similar design, except for a few changes. For one, the Pro variant will come with a much larger screen and an extra camera on the back. It's also likely to come with 5G support.
The renders also show the Galaxy Note 10 will not come with a 3.5mm headphone jack or the much-hated Bixby button. So that's a win and a loss for users. Other than that, the front camera is now drilled into the center of the screen instead of the top corner like in the Galaxy S10 series. The Pro variant seems to sport really minimal bezels while the regular variant has a visible forehead.
Based on past history, the Galaxy Note 10 could come with the Exynos 9820 in India while in the US the same will come with the Snapdragon 855. There could be up to 12GB of RAM and 1TB UFS 3.0 onboard storage along with a triple camera that will likely include a wide-angle and a telephoto camera. The fourth camera on the Galaxy Note 10 Pro could be a ToF sensor, the same that's there on the Galaxy S10 5G. By the looks of it, the Galaxy Note 10 Pro is shaping up to be a lot like the Galaxy S10 5G. It will be interesting to see how Samsung manages to differentiate between the the two series, now that the specs and features have started to overlap each other.