The Samsung Galaxy A90's camera unit could look like a combination of the camera units from the Oppo N1 and Oppo Find X.
Highlights:
The Samsung Galaxy A90 could have a sliding and rotating camera
It could look like a combination of the camera units seen on the Oppo N1 and Oppo Find X
If you thought the slide-out camera on the Oppo Find X was cool, wait till you hear the new word on the street about the upcoming Samsung Galaxy A-series smartphone. According to the popular leakster @OnLeaks, the Samsung Galaxy A90 could come with a sliding and rotating camera system. In his tweet, he believes it will be a "kinda mix between Oppo Find X and Oppo N1 systems", which means the camera module could slide out of the smartphone's body and rotate to face either the user or the subject behind.
As sophisticated as the new camera system may sound, its inclusion on Samsung's upcoming model isn't confirmed. The leakster claims to have heard about it from a "new and yet unconfirmed but seemingly reliable source". So it's probably best to take it with a hint of salt. On the other hand, given how smartphone manufacturers are currently on a quest to find the best way to maximise the screen-to-body ratio, there's no reason for Samsung to drop out of the game.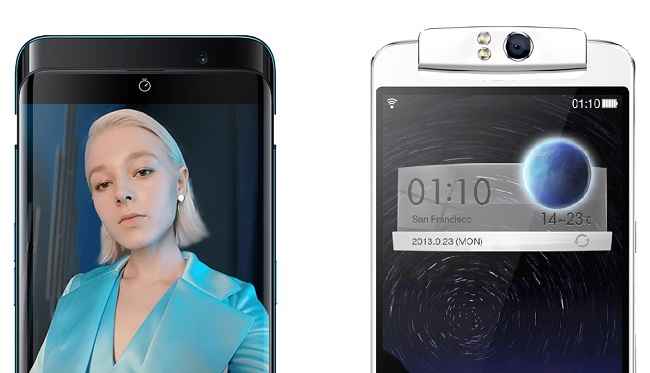 Samsung Galaxy A90 could hit a mark between the Oppo Find X (left) and the Oppo N1 (right)
If Samsung does decide to go in for a sliding and rotating camera system, it would need to add that crucial (and usually expensive) moving mechanical part. We imagine the moving module will consist of a two- or even three-camera setup that resembles the rotating unit on the Oppo N1. The big advantage will be the reduction in number of cameras needed as the same set of cameras can be used for front and rear photography. But what Samsung saves in the reduction of cameras it will lose in making the sliding, rotating unit.
This new rumour about the Galaxy A90 comes a day after the launch of Samsung's first set of Galaxy A-series smartphones in India. Samsung's new models include the low-end Galaxy A10 (priced at Rs 8,490), the mid-range Galaxy A30 (priced at Rs 16,990) and the upper mid-range Galaxy A50 (priced at Rs 19,990). The three new Galaxy A-series smartphones are set to go on sale in the market tomorrow.
Related Read: Samsung Galaxy A10, Galaxy A30, Galaxy A50 launched in India