The foldable smartphone, which was highly anticipated ever since Samsung first showcased its foldable displays back in 2013, is now a reality as the South Korean tech company has unveiled device at the Samsung Developers Conference (SDC) in San Francisco. There was already much talk about the smartphone and the company didn't shy away from fuelling the hype by issuing statements to make sure that when they announced the smartphone, they grabbed the eyeballs of the potential customers as well as competitors.
Though Samsung isn't the first company to unveil a foldable phone, it seems that it has managed to show off the device, which looks far stable than the FlexPai that was launched a few days back. Justin Denison, Senior Vice President of Mobile Product Marketing, Samsung showcased the device that was camouflaged in a black cover, and under dimmed lights to protect elements of the design. "There's a device inside here… and it is stunning," The Verge quoted Denison as saying.
Samsung says that, in its foldable smartphone, it uses an Infinity Flex Display, which measures 7.3 inches with a 1536 x 2152 resolution with an aspect ratio of 4.2:3 when it is in an unfolded state, and when it folds in half to reveal a second display, called "cover display" on the front, it functions as a 4.58-inch phone with a resolution of 840 x 1960 pixels with an aspect ratio of 21:9. Samsung says that the phone can be folded up to fit into a pocket.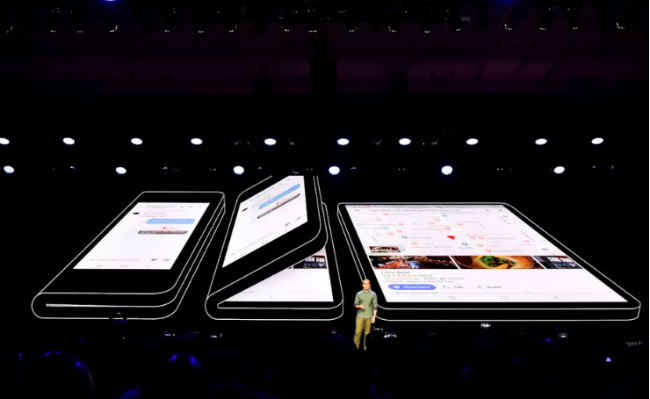 Samsung says that it will be able to mass-produce the Infinity Flex Display in a "matter of months" and according to Samsung, it had to develop new materials to protect the display, which uses a polymer that is claimed to be both "flexible and tough" and keep its strength even when folded and unfolded "hundreds of thousands of times." According to The Verge, Samsung has used a new adhesive that laminates the various display layers together to allow them to flex. The bezels of the phone looked thick when compared to edge-to-edge flagships.
As the industry takes a leap with technology, Google is also tagging along with its Android software. The company has announced that it is supporting these new foldable devices with Android, and it's working closely with Samsung for the launch of this phone next year. "Now we see a Android device makers creating a new category: Foldables. Taking advantage of new flexible display technology, the screen can literally bend and fold," Stephanie Cuthbertson, Director of Product Management, said in an official Android Developers Blog.
"There are two variants broadly speaking: two-screen devices and one-screen devices. When folded, foldables look like phones, fitting in your pocket or purse. When unfolded, their defining feature is what we call screen continuity. For example, start a video with the folded smaller screen - and later you can sit down and unfold the device to get a larger tablet-sized screen for a beautiful, immersive experience. As you unfold, the app seamlessly transfers to the bigger screen without missing a beat. We're optimizing Android for this new form factor. And, making changes to help developers everywhere take advantage of the possibilities this creates for amazing new experiences, new ways to engage and delight your users," Cuthbertson added.
Now that Samsung has unveiled the foldable smartphone, all eyes will be on Huawei, LG and Apple, among other OEMs to showcase their innovation. Huawei may launch a foldable device by the end of this year and the company had acquired the patent for a foldable phone at WIPO (World Intellectual property Organization). LG has confirmed that it is working on a foldable device and wants to create something that consumers actually want. Apple is also reported to launch a foldable smartphone in 2020.