Samsung 576MP camera sensor to launch in four years. Autonomous vehicles will most likely use the forthcoming 600MP camera sensor.
Samsung will reportedly launch a 600MP sensor slated for a 2025 release. Senior VP Automotive Sensor at Samsung Electronics, Heachang Lee, revealed a 576MP camera sensor set to release in the coming years. To be precise.
The South Korean tech giant showcased its engineering prowess recently by unveiling a 200MP smartphone camera sensor last week called "Samsung ISOCELL HP1." Earlier, Samsung also unveiled the world's first 108MP camera sensor, which was the world's first at the time.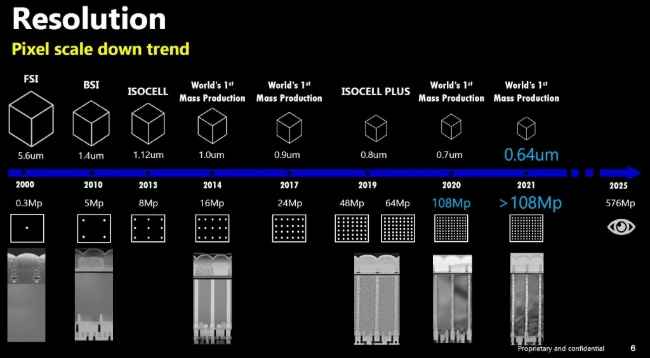 Samsung 576MP Camera Sensor To Debut For Automobiles
The upcoming Samsung 576MP camera sensor is not meant for smartphones. According to a report, the Samsung 576MP camera sensor will most likely debut in automobiles. Samsung made clear its ambition to develop a camera sensor greater than 500MP which goes beyond the capabilities of the human eye.
With the capabilities of autonomous cars increasing every day, the hardware powering them is also likely to take a huge leap in the coming years. Tesla already uses a combination of RADAR and high-speed sensors to install functional capabilities in its cars. Furthermore, autonomous cars from Google and Apple will also make use of super high definition cameras capable of capturing subjects at speed. The forthcoming camera sensor can also find its use in high-speed drones, both commercial and personal ones.
The 600MP camera sensor features 0.8µm pixels, is 1/.0.57" big and results in a 22mm bulge. Samsung looks keen on advancing its capabilities in the autonomous vehicles segment, IoT devices and drones in the near future.
Also Read: Samsung Galaxy A52s 5G with Snapdragon 778 launched in India to take on Realme GT Master Edition
Tags:
Samsung 576MP Camera Sensor
Samsung 576MP launch
Samsung 576MP Camera Sensor specs
Samsung 576MP Camera Sensor cars