OnePlus TV 32Y1 - Smarter TV
Android TV with superior craftsmanship and elegant design - Buy Now
Click here to know more
Advertisements
The telecom industry is in a deteriorating state with revenues of most telecom operators falling and their ARPUs hitting an all-time low. However, the telecom operators Reliance Jio, Airtel and Vodafone-Idea recently increased the pricing of their tariff plans and, in some cases, the prices increased by about 40 percent. While Airtel and Vodafone-Idea initially placed a cap on calling, they later removed it. However, Jio users still need to pay for ṭhe IUC charges, which are being levied by ṭhe telco. Now, a members of DreamDTH forum spotted an option that enables Jio users to buy recharge options at old prices.
Jio users need to log in to the Jio website in order to avail the offer. As per the report, one needs to head over to the Settings menu after logging in, which will be available via the Settings cog on the upper right area. We tried to access the old plans. You can spot the settings cog from the screenshot below. Now, tap on the Tariff protection option, which is the last tab on the right and you will be redirected to a webpage where you can still opt for old plans. It should be noted that the option is available only for Jio users who currently don't have an active plan. We tried it but it showed us an error.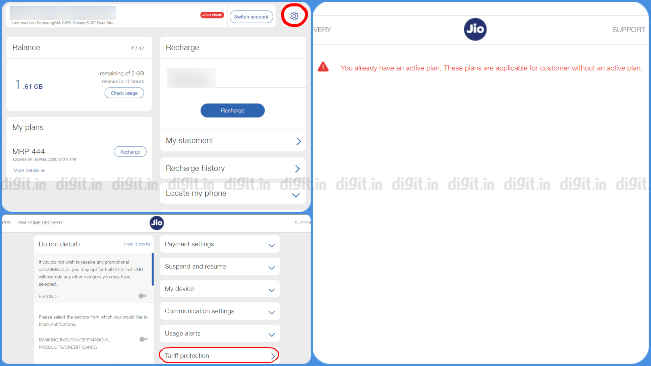 As per reports, this workaround is possible due to tariff protection guideline that the Telecom Regulatory Authority of India (TRAI) has imposed upon the telcos. Under the rule, it is mandatory for telecom operators to make their recharge plans available for a minimum of six months. This means that Airtel and Vodafone-Idea must also still have their old plans available deep in some submenu somewhere. If you spot plans featuring old prices for Vodafone-Idea or Airtel, let us know in the comments.