The Realme 2 Pro (review) will keep up with changing times and will be updated to Android 9.0 Pie, although not in this year. The company has confirmed the update will be rolled out in 2019 without giving a specific timeline. Earlier, Realme CEO Madhav Seth confirmed that the Realme 2 Pro OTA update will have slow-motion video recording. Now, in a Twitter thread, Realme India's support handle confirmed that the update will be rolled out in 2019.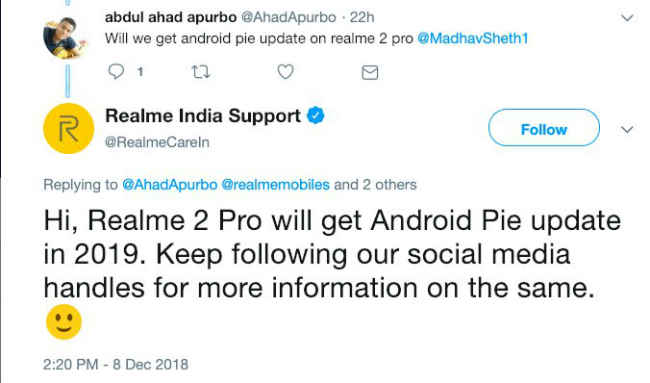 Image source: BGR India
2019 is a vague timeline of sorts for an update. And we hope it comes early next year. Seth also confirmed that Realme will unlock the bootloaders of both Realme 1 and the Realme 2 Pro early next year. This is to promote third-party development by releasing the source code.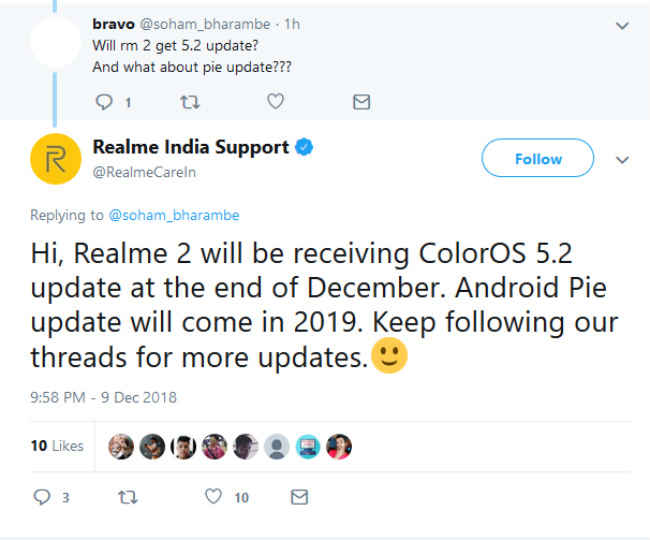 Other than that, the Realme 2 will also receive an update to ColorOS 5.2 later this month while the Android 9 Pie update will come next year. In fact, Realme India Support has tweeted that all Realme phones will be updated to the latest version of Android next year. It has now been two months since Android 9 Pie officially arrived in the market with the Google Pixel 3 and the Pixel 3 XL. Quickly after, the Xiaomi Mi A2, the Moto One Power, and other Android One certified phones including the Nokia 7 Plus received the update to Android 9 Pie. Even the OnePlus 6 and the OnePlus 6T run on the latest version of Android. In comparison to last year when Android 8 Oreo was released, we now have quite a few smartphones, both old and new, running on the latest version of Android. As such, Android Pie's install base.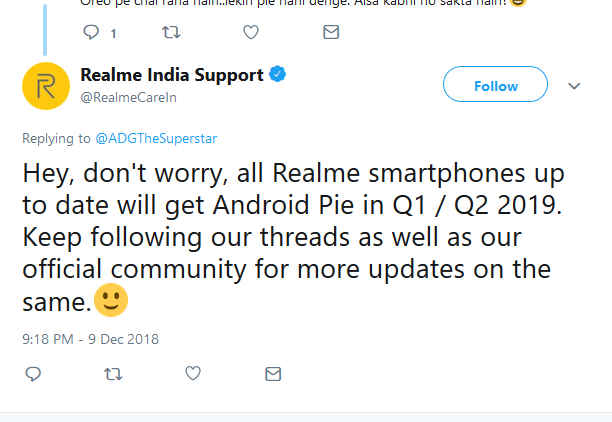 The Realme 2 Pro is priced at Rs 13,990 for the 4GB+64GB variant. It's powered by the top-of-the-line mid-range CPU, the Snapdragon 660. In fact, it's the most affordable Snapdragon 660-powered smartphone in India. There's another 6GB+64GB variant priced at Rs 15,990 along with a staggering 8GB+128GB variant for Rs 17,990. Hardware wise, and even on performance benchmarks, the Realme 2 Pro outperformed most smartphones. Unfortunately, it also indulges in benchmark testing, and while that doesn't really affect real-world performance, it was the reason why the Realme 2 Pro did not qualify for Digit Zero1 Awards.
There is a dual 16+2MP dual camera setup at the back along with a 16MP front shooter. The phone has a laminated glass design that touts a 6.3-inch Full HD+ display with a waterdrop notch on top. Underneath is a 3,500mAh battery.
The Realme 2 Pro relies on an Android 8.1-powered EMUI interface. It is mostly feature-packed but also comes with a lot of bloatware. There is a rear-mounted fingerprint sensor along with face unlock and dual-SIM with dual-VoLTE support.