Razer is expected to announce its next gaming-centric smartphone, the Razer Phone 2 on October 10. However, the upcoming device might disappoint those who are expecting top-end performance. The guys over at XDA Developers claim to have gotten their hands on the Google Play certification of the smartphone, which suggests that the device could be powered by last year's Qualcomm Snapdragon 835 chipset, and not the new Snapdragon 845. If true, it would mean that the new phone would be less powerful as compared to the Xiaomi Black Shark and the Asus ROG Phone, both of which sport Qualcomm's current flagship chipset. This is also different from the AnTuTu benchmark listing, which suggested that the phone would indeed be powered by the Snapdragon 845.
Other specs revealed by the certification suggest that the Razer Phone 2 might come with 8GB RAM and run on Android Oreo v8.1. It is also tipped to feature a display with a resolution of 1440 x 2560 pixels, which is in line with previous reports which suggested that the Razer Phone 2 may offer the same display size as its predecessor, the first Razer Phone. This means that new phone may also offer a 5.7-inch panel with a 120Hz refresh rate.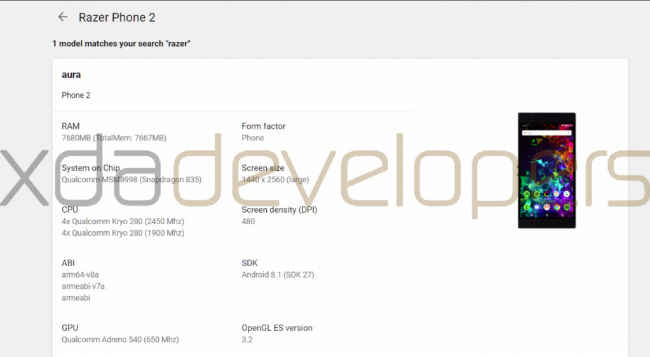 Interestingly, the report also includes an image of the phone which suggests that the phone will come pre-loaded with the Chroma app. The Razer Chroma software is used by the company to control RGB lighting on its desktops, laptops and various other accessories. So it is possible that Razer is bringing RGB lighting to the Razer Phone 2.
Similar chipsets and display may not be the only thing that the new Razer Phone 2 may share with its predecessor. Reports suggest that the phone may also look quite similar as well. The first Razer Phone took design cues from the Nextbit Robin, which the company acquired in January last year.
Of course, as all this is yet to be confirmed, we will have to wait until the smartphone is launched officially to know for certain. We'll Also have to note that the first Razer Phone has not yet made its way to India even after the company's CEO said it would. It's possible that the Razer simple plans to launch the new phone in India instead.