Qualcomm launched its current flagship processor, the Snapdragon 855 in December, last year. It launched the Snapdragon mobile platform as the first 7nm chipset for mobile devices. It is speculated that its successor, the Snapdragon 865 could be launched by the end of this year. However, it appears that the upcoming flagship chipset is already being tested.
A testing device labelled as 'Qualcomm Kona' has appeared on Geekbench. Last year, the Snapdragon 855 was codenamed 'msmnile.' Interestingly, the Qualcomm Kona device is also powered by 'msmnile' processor, but its benchmarking scores are better than SD855. For reference, the Snapdragon 855 scored around 3.5k in the single core test and around 11k in the multi-core test.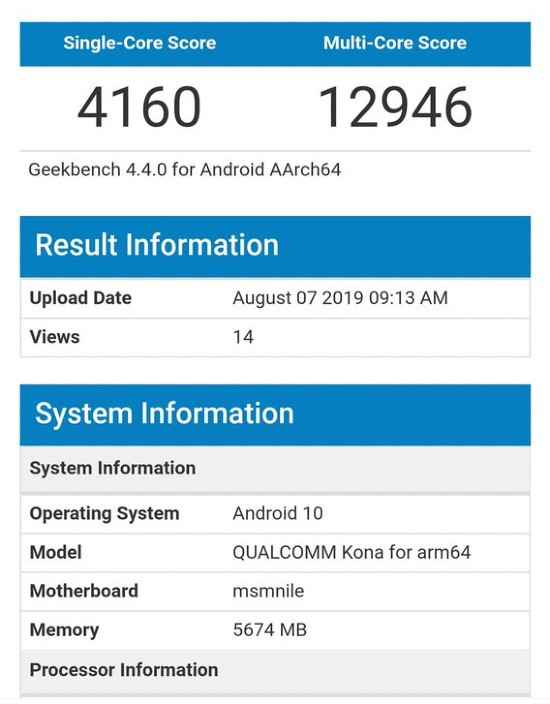 Qualcomm Kona recorded a score of 4149 in the single-core test, and 12915 in the multi-core test. The Geekbench ratings suggest that the chipset of the device is coupled with 6GB RAM. Further, the Qualcomm Kona is running on Android 10 OS, which is Android Q. It has 8 cores, and multiple listings of the device show that its processor has a different base frequency of 1.8GHz.
The expected upgrades include: native 5G support, move to LPDDR5X RAM standard, HDR10+, and support for faster storage such as UFS 3.0. It could be the second generation 7nm chipset from Qualcomm. Moreover, the Snapdragon 865 is expected to debut on the Samsung Galaxy S11 in February 2020.
Recently, an enhanced and overclocked version of the Snapdragon 855, with 2.96Ghz clocking speed, was announced as the Snapdragon 855 Plus.