Google Pixel 2 and Pixel 2 XL are once again making headlines for their camera prowess. After defeating the Galaxy Note 8 and the iPhone 8 Plus in DxOMark testing, the Pixel 2 and Pixel 2 XL have become two highly anticipated camera phones that do not possess dual rear lenses like most other flagships of the day.
Now, in a pleasant surprise, Google has revealed that the Pixel 2 and Pixel 2 XL house a custom SoC called the Pixel Visual Core Chip. The SoC is Google's first custom imaging octa-core chip which enables faster image processing while using less energy. The Visual Core Chip can process HDR+ "5x faster" using "less than 1/10th the energy" compared to traditional application processing.
This means that Pixel 2 and Pixel 2 XL owners will be able to take multiple pictures in sequence as HDR+ is intelligently processed in the background. Google's Pixel Visual Core Chip also expands the reach of the device's HDR+ abilities to work with third-party apps.
"To expand the reach of HDR+, handle the most challenging imaging and ML applications, and deliver lower-latency and even more power-efficient HDR+ processing, we've created Pixel Visual Core," Google writes in a blogpost.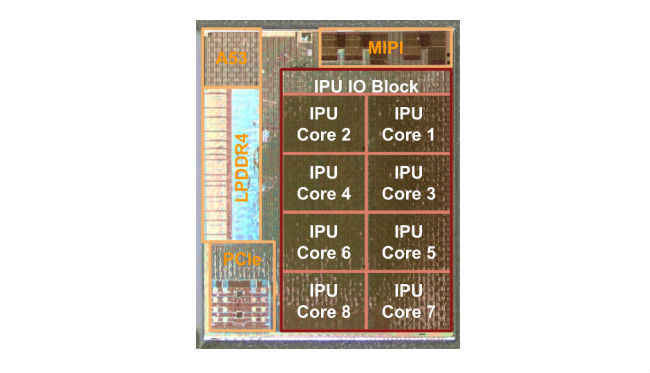 The Google-designed Image Processing Unit is a fully programmable, domain-specific processor with eight custom cores, each with 512 arithmetic logic units (ALUs). It delivers raw performance of more than 3 trillion operations per second on a mobile power budget.
While the Pixel 2 and Pixel 2 XL already house the custom image processor, it has not yet been activated on both devices. "In the coming months, we'll turn it on through a software update to enable more applications to use Pixel 2's camera for taking HDR+ quality pictures," Google writes. The company will enable the Pixel Visual Core Processor in coming weeks with the developer preview of Android Oreo 8.1 and will later enable it for all third-party apps using the Android Camera API.
The Google Pixel 2's camera is now powered by a new 12.2-megapixel image sensor. The sensor is now a Dual Pixel unit, which means that every pixel in the sensor is subdivided into two smaller pixels, and each of these sub-pixels add to the phase detection autofocus performance of the camera. You can read more about the Google Pixel 2 camera here. The Pixel 2 and Pixel 2 XL will be up for pre-order in India on Flipkart starting October 25.
For more technology news, product reviews, sci-tech features and updates, keep reading Digit.in or head to our Google News page.