Working from home?
Don't forget about the most important equipment in your arsenal
Click here to know more
In the next five years, over a billion smartphones will sold and by 2022, the number of smartphone users in India will cross the 700 million mark, market research firm Counterpoint Research has said. It also expects that mid-range smartphones, those with wholesale prices in the range of $200-$400, will grow 20 percent year-on-year (YoY) in 2018 and by almost four times during the next five years to make it one of the most important smartphone segments.
"The sales volume sweet spot is moving from sub-US$150 segment towards mid-tier as many features and capabilities common among flagship models, progressively diffuse through to these lower price bands. Features such as full-screen displays, dual-cameras, biometric security and support for artificial intelligence are beginning to make in-roads to the mid-range. They will become widespread over the next few years. Several of these are said to be enabled and enhanced through the evolution of System-on-Chip (SoCs) and other components," the firm said in a report.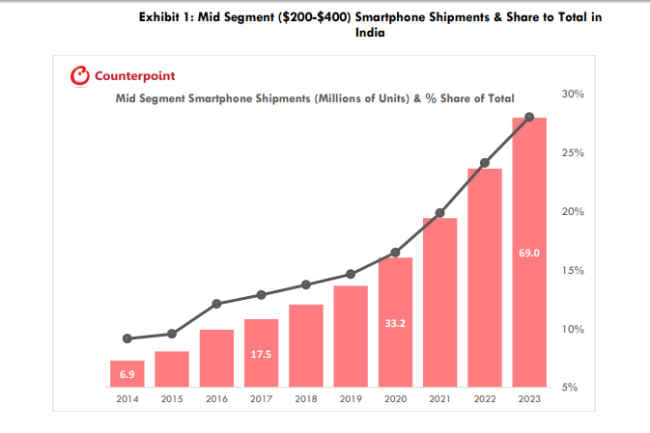 India is the second largest smartphone market in the world after China and is recently surpassed the 400 million smartphone users mark. Reliance Jio has catalysed a rapid shift toward 4G LTE with accessible data pricing, meanwhile the broader availability of attractive and capable smartphones from a wide variety of competing mobile handset brands has played a major role in achieving this number. As a result, the market is registering a double-digit growth (13 percent YoY) and seeing users migrate from feature phones to smartphones and from entry-level smartphones to more sophisticated devices.
We have seen volume growth across all price bands due to the steady diffusion of users towards higher price points as they become more sophisticated and demanding. Mid to upper-mid segment ($200-$400) grew faster than the overall smartphone market (18 percent) in Calendar Year 2017 and captured 13 percent of the total smartphone sales by volume and 25 percent by value. With competition in mid to upper-mid segment growing in India, brands are looking to keep a balance between flagship level features and pricing to drive profitability and it will likely continue to be the 'sweet-spot' segment for the next two years," the market research firm notes.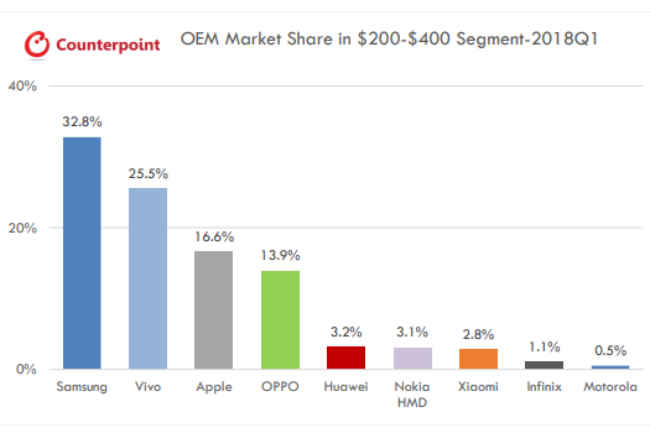 The mid-tier smartphone segment, which is one of the fastest growing market segments in India, likely becomes more competitive during 2018. The growth of the segment will be driven by 'affordable flagship' smartphone launches that attract second or third-time smartphone buyers, it claims, adding, that the increase in GDP per capita will empower consumers to spend more on smartphones. The competition among distribution channels is driving down the cost of ownership through a range of attractive offers.
Counterpoint Research also claims that the top five brands contributed to 92 percent share of the mid-tier segment in India. Samsung, Vivo, Apple, OPPO and Huawei were the leading brands in the first half of 2018. It is expected that the competition will increase in the segment with the entry of more brands like Xiaomi, Asus, Nokia (HMD Global) and others. Currently there are 12 OEMs competing in the mid to upper-mid segment and the number is expected to reach 20 by the end of 2018 as OEMs look to cash-in on this fast-growing smartphone segment, the firm said.