Highlights:
OnePlus tops premium smartphone selling brand in 2018 in India.
Samsung, however, takes up the top spot in terms of shipments.
Apple took a beating this quarter and took the third spot.

OnePlus has emerged as the best selling smartphone brand in 2018 in India, and has captured 36 percent of the total premium smartphone market share in the fourth quarter of last year, Counterpoint Research has said in Counterpoint Market Monitor Service Data for Q4 2018. The market research firm also says that with a market share of 15 percent, the OnePlus 6 was the best-selling premium model throughout 2018 in terms of shipment as well as in retail value. The OnePlus 6T (10 percent) was positioned at second place followed by the Samsung Galaxy S9 Plus (8 percent).
Not only that, OnePlus has recorded its highest ever shipments in a single quarter (Q4 2018) to lead premium smartphone segment for three successive quarters. The success was driven by the strong demand of the OnePlus 6T during Diwali season. These reasons were enough for the Chinese brand to take a dig at Apple on Twitter and Instagram. OnePlus fans also mocked the Cupertino-based tech company for losing out to OnePlus in the Indian market.
"OnePlus recorded its highest ever shipments in a single quarter to lead the premium smartphone segment for three successive quarters. Additionally, the success of OnePlus drove overall premium smartphone shipments to a record number in a single year. This was driven by strong demand of its latest OnePlus 6T during festive season. The momentum continues even after festive season due to strong word of mouth and product feedback from the end users," Karn Chauhan, Research Analyst at Counterpoint Research, said in a statement.
OnePlus was followed by Samsung, which captured 26 percent share of the premium segment and its shipments grew 72 percent year-on-year in the fourth quarter of 2018. The newly-launched Galaxy A9 with a quad rear camera setup contributed towards Samsung's growth. However, Samsung led the premium market for the full year 2018 in terms of shipments, narrowly inching ahead of OnePlus.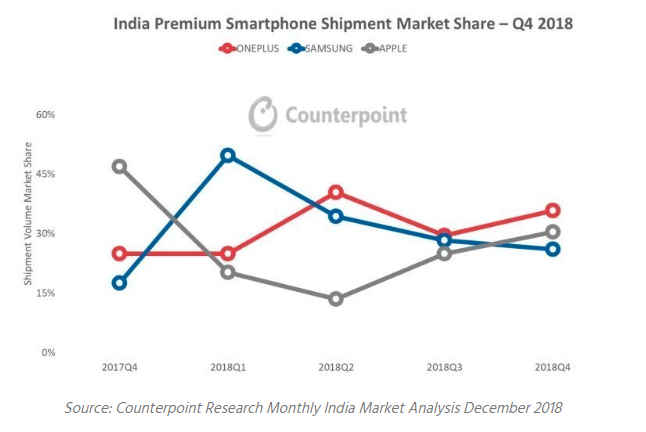 Apple took the third spot as its premium segment shipments declined 25 percent YoY in last quarter due to "extreme high-premium-commanding pricing for iPhones as Apple continues to choose to pay 20 percent import duty on new imported iPhones instead of manufacturing in India." Counterpoint Research also says that the competition for Apple will increase in 2019 with the entry of Android premium offerings by Chinese brands including Huawei and aggressive sales and distribution strategy from OnePlus, Samsung, Huawei and Google.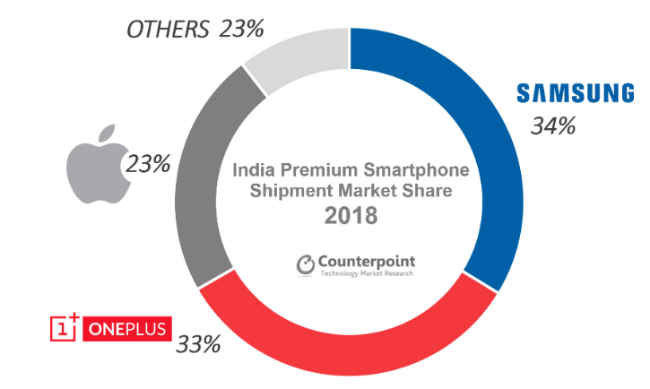 Overall, the premium smartphone segment (retail price more than or equal to Rs 30,000/$400) shipments reached its highest ever in a quarter (Q4 2018) and a year (2018). The overall premium segment grew by 8 percent YoY for the full year and 16 percent YoY for the fourth quarter. The top three brands, OnePlus, Apple and Samsung contributed to 92 percent of the overall premium market in Q4 2018.
Related Read:
Overall iPhone sales down 20% YoY in November: Counterpoint Research
Jio Phones top feature phone, overall handset Indian market in 2018: Counterpoint Research