OnePlus has finally unveiled the Concept One smartphone that was being teased for some time now. While it is a new handset, the first thing about the new concept design by OnePlus is that it employs electrochromic glass technology that effectively hides the rear camera setup. While this technology has been around for a long time, this is the first time it is debuting on a smartphone. As per OnePlus, it took about 18 months for the company to develop the tech for their smartphone and it was challenging since the glass is only 0.35mm thin. The company needs to test it out further, in order to get it ready for the mass market, so it's still in the concept phase at this point.
Look Ma, disappearing cameras!
OnePlus has successfully managed to eliminate the rear camera setup, and hence the camera bump, with the OnePlus Concept One. This doesn't mean that the handset doesn't ship with rear cameras. OnePlus were inspired by the McLaren 720S' sunroof as an example, which lets sunlight through when required and can turn opaque to block it. The company used electrochromic technology and moved the cameras inside a glass panel, which is opaque but turns transparent in about 0.7 seconds when the camera app boots up. It is touted to be similar to a physical Natural Density or ND filters that are found on cameras.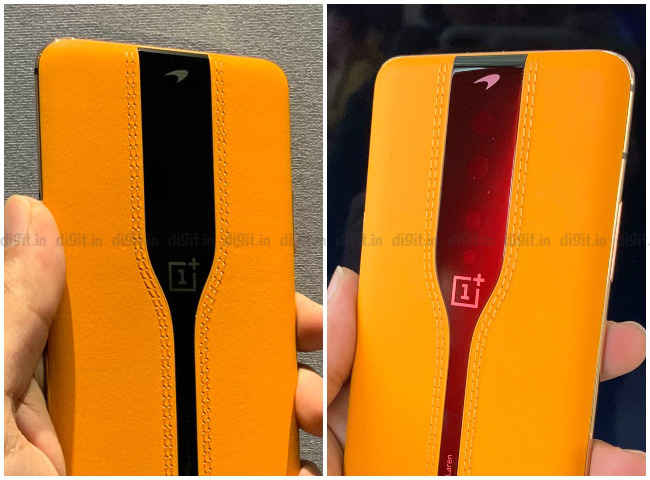 The electrochromic glass doesn't affect the smartphone's camera performance and considerable time was spent on testing this, OnePlus says. One will also notice the bright McLaren papaya leather finish on the rear panel. The leather finish sports stitching lines as well and it is the same leather as the one used on the McLaren 720S. The handset's frame is constructed using aluminium alloy that undergo PVD (Physical Vapor Deposition) coating so that it's wear-resistant. OnePlus claims that the Concept One is the first phone to feature a PVD aluminium frame.
According to OnePlus Product Marketing Lead Dibyajyoti Deb, the electrochromic glass is designed to switch between transparent and translucent, but not go completely opaque. To do that, the system would draw larger amounts of power, which could have a negative impact on the phone's battery. It's why the glass turns completely transparent when the phone is switched off.
Since the new handset is a concept phone, there's no definite timeline as to when the technology could be made available. However, the possibility of OnePlus employing the new technology on its upcoming handsets definitely exists.