The 16GB variant of the OnePlus 2 has 3GB of RAM and would be available on Amazon invite-free
The 16GB variant of the OnePlus 2 is now available in India for Rs. 22,999. The device is pretty similar to the 64GB variant of the OnePlus 2 except of the storage and RAM. The 16B OnePlus 2 comes with 3GB of RAM instead of 4GB. The device is available on Amazon and does not require any invites to purchase.
During the launch of the OnePlus 2, the company had said that it would launch the 16GB variant of the phone by the end of 2015. The 16GB version of the OnePlus 2 comes with 5.5-inch Full-HD display with a resolution of 1080 x 1920 pixels. It is powered by a 64-bit Snapdragon 810 v2.1 processor clocked at 1.8GHz with an Adreno 430 GPU. At the back is a 13MP primary camera with dual-LED flash, laser autofocus and Optical Image Stabilisation. At the front is a 5MP camera with a wide-angle lens. In addition the device has a fingerprint sensor along with a 3300mAh battery. The device comes with Android Lollipop v5.1.1 with OnePlus' OxygenOS layered over it.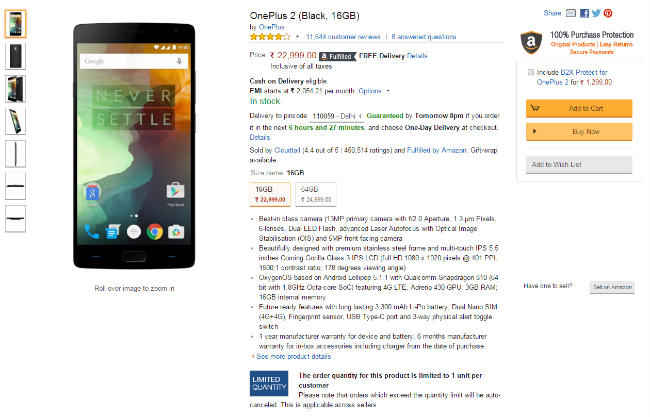 Last month, during the celebration of its second anniversary, OnePlus announced that it was making the OnePlus 2 available without invites forever. The company's co-founder, Carl Pei, also announced today that the OnePlus X would now be available without invite as well.
Last week, the company announced that it was recruiting fans who were interested in beta-testing the Android Marshmallow 6.0 update for its devices. It is believed that the test build would only run on the OnePlus 2. Back in November, the company had announced that it will update the OnePlus One and OnePlus 2 to Android Marshmallow v6.0 in the first quarter of 2016. The company didn't mention when the OnePlus X would be updated to Marshmallow. They only stated that they were working hard to roll out the update as soon as possible.