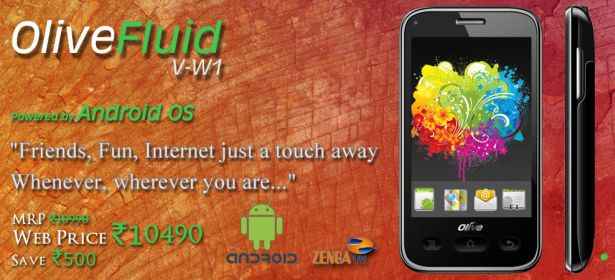 Olive Telecom has launched a new low-cost Android phone in the market, the OliveFluid V-W1. Priced at Rs. 10,990, the OliveFluid is an Android 2.1 handset, something unexpected after Olive brought the first Gingerbread phone in the Indian market, with the OliveSmart V-S300.
However, once we take a look at the specifications, we begin to see why the software is not up to date, and begin to wonder just what Olive was thinking by bringing such an offering into the bustling low-cost Android market, even at a sub-Rs. 10K price. Nothing really stands out about it.
[RELATED_ARTICLE]The OliveFluid has a 3.5-inch capacitive touchscreen with a 320x480 resolution, which is on the lower side of pixel density, but not too bad. It has a 468MHz processor however, with just 256MB of RAM and ROM. Relevantly (for a phone running Android Eclair), the OliveFluid has just 256MB built-in storage, though it is expandable to 32GB via microSD.
All is not all bad however, and the OliveFluid redeems itself slightly by offering 3G, Wi-Fi, Bluetooth, GPS, and A-GPS connectivity. It has a 3MP camera onboard, as well as a 3.5 mm audio jack, digital compass, gravity sensor, and proximity sensor. Its 1,300 mAh battery is surprisingly rated to deliver just 4 hours of talk time, and 192 hours of standby time.
Finally, with perhaps the best way to offset the out-of-date hardware, Olive Telecom has also included a content bundle with the Olive Fluid – a free six month subscription to Zenga TV.