While news of Qualcomm's latest Snapdragon 2.5GHz quad-core mobile processors is still resounding in the portable world, Nvidia has showcased its upcoming Tegra 'Kal-El' processors – which will also feature four cores.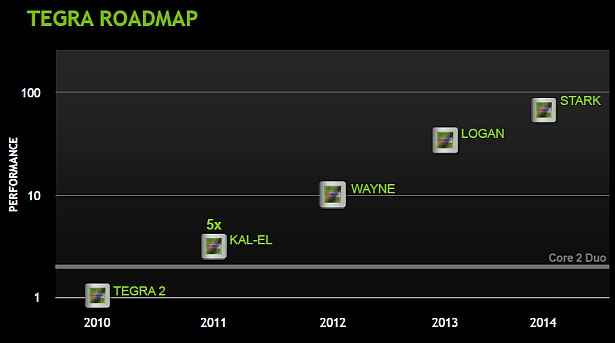 Promising over 5 times the performance of the current Tegra 2 architecture, the Kal-El Tegra 3 SoC processor has some pretty crazy specs apart from its four Cortex A9 CPU cores, including twelve GPU cores. It also is capable of supporting ultra-HD (1440p) resolutions up to 2560x1600. As evinced by the above superhero studded roadmap the various company benchmarks, the Tegra 3 processor outpaces a Core 2 Duo T7200 desktop processor.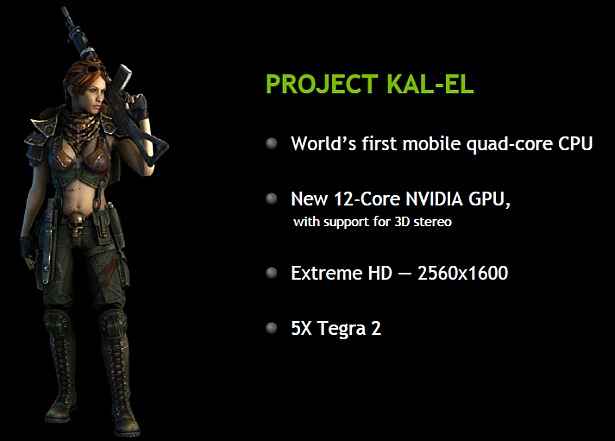 [RELATED_ARTICLE]What Nvidia is claiming as the biggest difference between Qualcomm's Snapdragons and its own next gen Tegra SoCs is that Nvidia's will supposedly arrive in devices, i.e., tablets, in 2011, while the Snapdragon quad-cores will only start shipping in 2012. By which time, of course, the green graphics giant was also quick to point out, Tegra 4 'Wayne' would probably have started sampling:
"Our customers and partners have already indicated that they are confident they can use everything we give them. If you have followed Nvidia, you know the relentless velocity of innovation that we've brought to the PC space with our GeForce processors. Prepare for that same intensity to play out in the mobile space."