Nvidia has announced its next-gen mobile chip which is based on its Maxwell GPU architecture.
Nvidia announced its latest mobile chip, the Tegra X1, based on its Maxwell GPU architecture which was first seen in its desktop graphics card, the GeForce GTX 980, at CES 2015 yesterday.
The Tegra X1 has an octa-core CPU with four ARM Cortex A57 cores and four ARM Cortex A53 cores. This arrangement of CPU cores is similar to the 64-bit Snapdragon 810 SoC by Qualcomm. It uses a 20nm manufacturing process and has a 256-core Maxwell GPU. The new SoC can handle 4K video (H.265, H.264, VP9) at 60fps.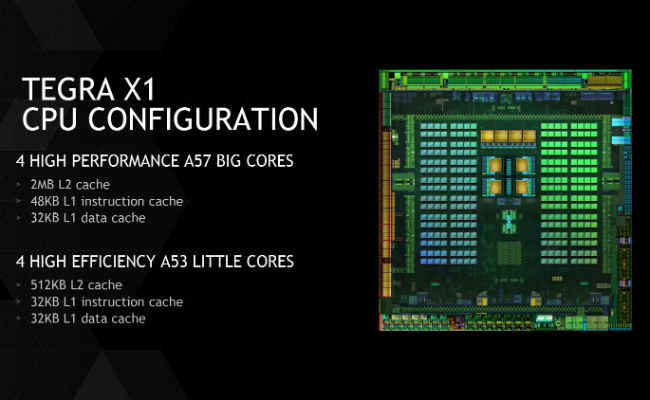 Nvidia claims that the new X1 provides almost twice the computing power of its predecessor, the Tegra K1, which powers the Google Nexus 9. Nvidia president Jen-Hsun Huang, during the presentation, claimed that the new X1 SoC is capable of delivering 1 teraFLOPs of performance.
"The Tegra X1 mobile super chip, with its one teraflops of processing power, is a giant step into this revolution." said Jen-hsun Huang. The X1 SoC will be featured in Nvidia's newly announced NVIDIA DRIVE CX platform. It is an auto-pilot computing platform for cars which can drive the infotainment system across different screens inside your car and supports Android, QNX and Linux.
Source: Nvidia Blog
Via: marketwired, ArsTecnica