Vostro 3501
Popular tech to stay connected anywhere. Save more on exciting Dell PCs.
Click here to know more
Advertisements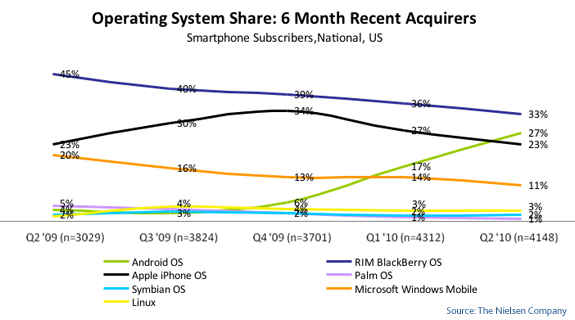 Nielsen, one of the biggest market research companies in the world, has released its smartphone market numbers for the past 6 months. Like all market research, it has to be taken with a pinch of salt, but the numbers are interesting anyway. Current figures for new subscribers in the US peg Google/Android's market share at 27%, RIM/BlackBerry's share at 33%, and Apple/iPhone's share 23%. While Android's rising numbers have proponents of the green robot jumping with joy, one has to agree that Apple, with a single device, is still strong and competing against Android's innumerable devices. In terms of all subscribers in the US for the quarter ending June 2010, BlackBerry has 35% of the share, iPhone 28%, Windows Mobile 15%, while Android is still at a measly 13%, though rising as fast as WinMo is falling.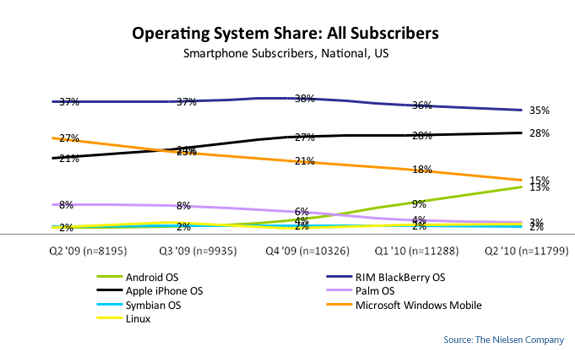 Perhaps the most interesting statistic is of the survey "Next Desired Smartphone OS", which reveal that more than 50% of BlackBerry owners are looking to switch to iPhone (29%) and Android (21%) devices with their next purchase. These are astonishing numbers, quite indicative however of how the iPhone and Android devices are sneaking up on both corporate and consumer markets as the must-have devices. We'll just have to wait for RIM's BlackBerry OS 6.0 to make its mark and wow back customers with a shiny new interface.