HMD Global's current flagship smartphone, the Nokia 8 has achieved an average score of 68 on the DxOMark test. DxOMark is a camera benchmarking company which tests and rates the camera quality of a smartphone, camera and other devices. As per their test results, the camera setup on the Nokia 8 fails to impress and scores even lower than the Lava Z25, which scored an average of 70.
In their test summary, DxOMark said that the smartphone is able to capture decent still images. It earned an overall Photo score of 72 with the shot images exhibiting good exposure. However, the smartphone struggles to capture decent low light photos in their darkest 1 Lux test scene. The white balance seems accurate and the HDR mode kicks in sometimes, which shows the good dynamic range it is capable of shooting, but is highly inconsistent.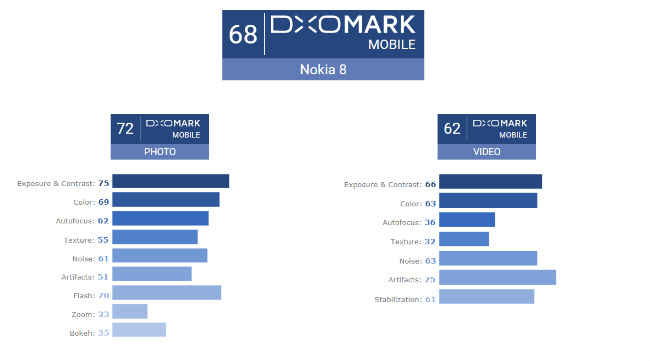 DxOMark said, "With top-end processing components, a 5.3-inch QHD IPS display, and an IP54-rated aluminum uni-body, the Nokia 8 is a high-end device inside and out, but the performance of its camera module lags behind our (admittedly high) expectations. The Nokia is capable of producing decent still images, but in many situations, it cannot match the image quality of the cameras in current high-end phones from most competitors."
The captured images also exhibit strong noise even when shot in brightly lit conditions along with low levels of colour saturation. Image details were further lost when images were taken indoors and in low-light conditions, and an overall loss of sharpness in the field was observed, with the outer edges of images being softened.
Coming to the video scores, DxOMark said that the smartphone's low autofocus and stabilization subscores marr its overall performance. During their tests, the autofocus repeatedly failed in low light conditions and the video stabilisation performed at par with the dated Samsung Galaxy S6 Edge which was launched in 2015. However, the videos do exhibit good target exposure and color rendering in bright light and well-lit indoor conditions. You can read our summarisation of the DxOMark test performed on the Xiaomi Mi Note 3 here, which surpisingly exhibits much better camera performance than the Nokia 8.