Apple has already apologised for slowing down older iPhones to avoid unexpected shutdowns. Apple has also lowered the price of replacement iPhone batteries for iPhone 6 or later devices, and users can now get a new battery for as low as Rs 2000, as against its original price of Rs 8,200.
However, some users reported that when they approached an Apple authorised repair centre for a battery replacement, they were told their devices were 'ineligible' because they managed to pass Apple's Diagnostic Test confirming that the battery was still in good condition.
Now, Apple has clarified that older iPhones don't need to pass the diagnostic test in order to be eligible for the cheaper battery replacement. This means that you can now get batteries on your iPhone 6, 6s, SE and 7 replaced without any need for further testing by Apple. The same policy will also apply for iPhone 8 and iPhone X when the devices consumers have go out of warranty.
According to iGen, an internal company note shared with Apple Stores directs them to replace out-of-warranty batteries on iPhones without further investigation into the battery health. Apple usually replaces iPhone batteries under warranty only if the capacity reaches 80 percent or lesser of its initial capacity. This policy will remain the same for all iPhones still under warranty.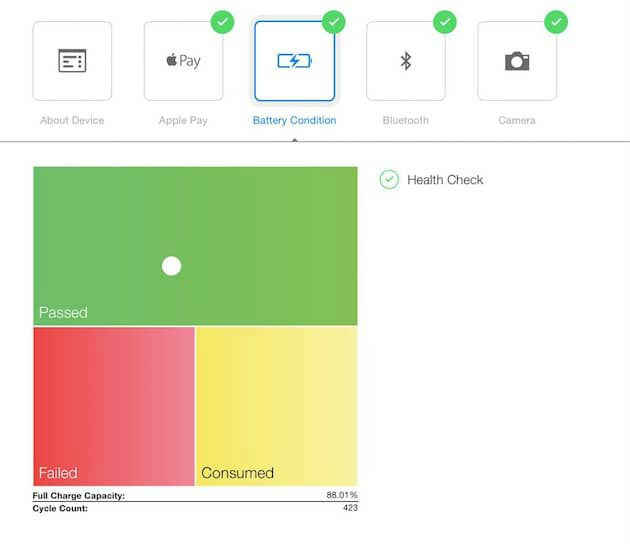 Apple Battery Diagnostic test courtesy Mashable. White dot indicates status of iPhone battery..
Further, under warranty iPhones will also need to complete a mandatory diagnostic test to determine if the battery health has diminished or not.
Those customers who have already changed the batteries of their iPhone 6 or later devices at the original cost have been directed to contact Apple Support to reach a resolution.
Apple is yet to unveil its own battery diagnostic tool which was promised alongside the cheaper battery replacement. The tool is expected to be rolled out with an upcoming iOS update.