Dell Vostro
Power New Possibilities | Dell PCs starting at Rs.35,990*
Click here to know more
Advertisements
Developers who have access to Nokia's Remote Device Access (RDA) stumbled upon a few new devices that have not yet been showcased by Nokia but have managed to find their way on the list. It's obvious that these devices are in their development stage but their model numbers were visible on the leaked chart.
The leaked devices include the Lumia 910, Lumia 920, Lumia 950 and the Lumia 1001. As these device fall under the "Lumia" umbrella of Nokia and it's evident that these devices will run on the Windows Phone OS. Microsoft recently showcased their Windows Phone 8 mobile OS and these devices are expected to run on it.
Other leaked models include the Nokia 510 and Nokia Belle 805. Speculation on the Internet suggests that the Nokia 805 may be designed on the lines of the PureView but whether the OS will be Windows Phone or Symbian Belle is still to be seen. A Lumia PureView definitely seems to be on the cards regardless. The Nokia 510 is expected to be an upgrade of the Nokia 500.
click to enlarge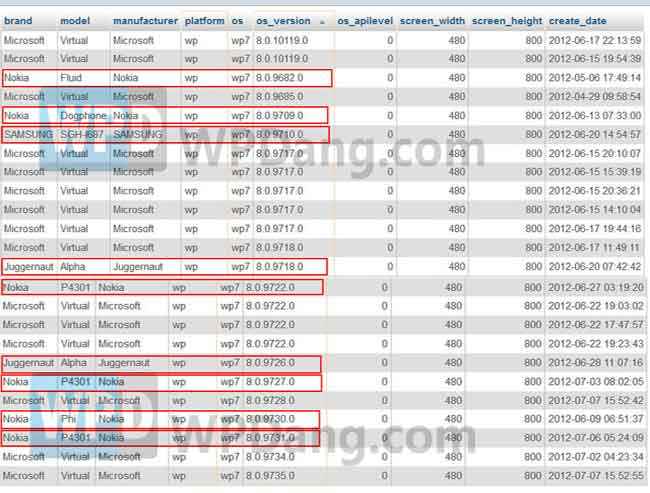 No detailed specifications of the smartphones were leaked, and we aren't sure of a launch period either. We can however speculate that the Lumia devices will fulfill the requirements of Windows Phone 8, with multicore processors, microSD card support, NFC support, a new smart screen and more. You can read the complete list of features of Windows Phone 8 here
Nokia Recently launched the Lumia 610 in India along with the Lumia 800 Dark Knight Rises limited edition.
Also read,
Former Nokia execs salvage MeeGo for smartphones, first device due in 2012
First Impressions: Nokia Lumia 610
Nokia 808 PureView Review