If you are one looking forward to a foldable phone from LG, then there is good news for you. A patent has leaked online showcasing what could be a foldable phone from LG. The unique thing about the LG foldable phone is that it has two folds. The leak comes courtesy Lets Go Digital and shows that the device can be folded twice. The device will also come with a stylus.
When the device is unfolded, i.e., in its tablet form, it has a 16:10 aspect ratio. The patent shows the device has thin bezels on three sides. The fourth side has a wide bezel that houses a triple camera setup. As for the stylus, there is a place to store it in one of the two hinges. When the device is folded, the smartphone looks to have an aspect ratio in line with modern smartphones. How the device looks in the real world is something to look forward to.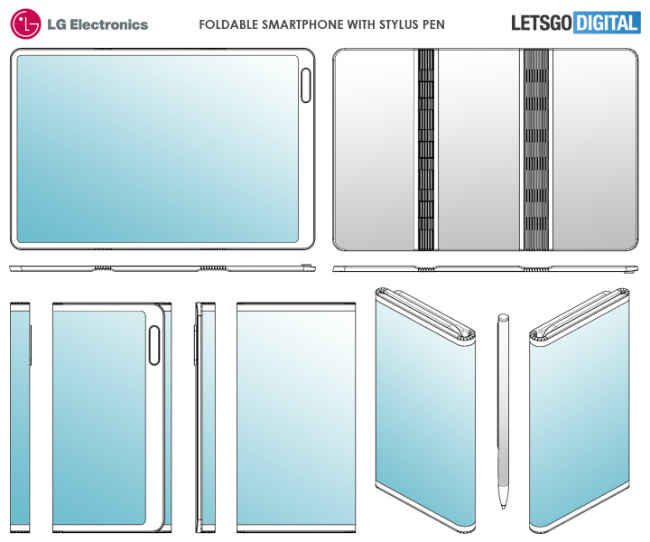 Samsung is the only one that launched its foldable smartphone in the market and after a rocky initial launch, the foldable device is now relaunching. Huawei's Mate X foldable smartphone is reportedly going on sale in September, but there is no information on the official launch of the device. Google is also said to be working on a foldable device but we shouldn't expect a launch anytime soon.
Xiaomi, on the other hand, is the only other smartphone maker working on a foldable device that folds twice, similar to the LG one.
How foldable smartphones work in real-world scenarios is something we will have to wait and see. Historically, we have seen that it isn't the first mover's advantage that works but rater, the device that perfects the use cases. Dell was the first device maker to launch a phablet in the form of the Dell Streak but it was the Samsung Galaxy Note that cemented the concept of a large screen phone and the rest, as they say, is history. How foldable phone will work in everyday scenarios is something we will have to wait and see.