Netflix is testing out its cheapest plan in India where viewers will be paying on a weekly basis. The weekly plans start from Rs 65 for the mobile-only plan, and goes all the way up to Rs 200 for the Ultra plan. The plans presently seem exclusive only for India.
The new plans have started showing up on Netflix India's website. You can pay Rs 65 per week for a mobile-only plan, Rs 125 for the basic plan (SD only), Rs 165 for the Standard Plan (two devices, HD) and Rs 200 for the Ultra plan (four devices, 4K).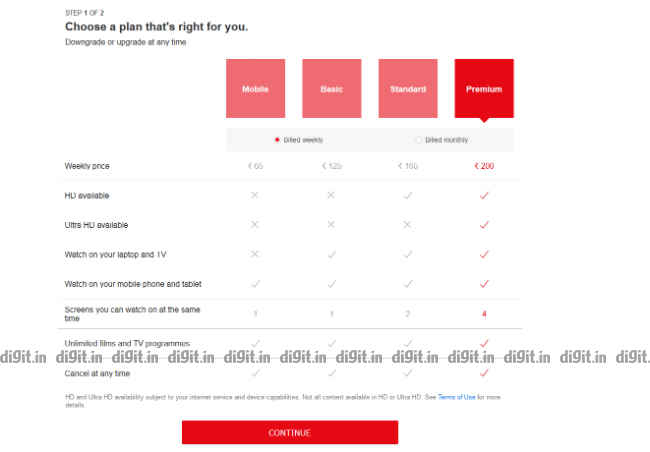 Apart from this, Netflix is also testing a Rs 250 per month mobile-only plan in India, which can be seen on the plans section. The mobile-plan lets users watch content on only one screen at a time which to be either a smartphone or a tablet. The plan also restricts quality to SD and you won't be able to watch shows in HD or 4K.
The weekly-plans have only started showing on Saturday and before this Netflix was believed to be experimenting with the plan. The plans aren't necessarily cheap if you calculate on a monthly basis, but it does offer the flexibility to pay only when you want to watch something, effectively offering content at a lower price.
"We are always looking for ways to make Netflix more enjoyable and accessible. We will be testing different options in select countries where members can, for example, watch Netflix on their mobile device for a lower price and subscribe in shorter increments of time," a Netflix spokesperson told Digit. "Not everyone will see these options and we may never roll out these specific plans beyond the tests."
Despite the seemingly affordable plans, Netflix remains to be one of the most expensive video streaming service in India. Amazon Prime Video and Hotstar are both more affordable and both of them offer monthly and yearly plans. Hotstar even has a free tier where it lets you watch some content for free. On the other hand, subscribing to Amazon Prime Video also brings added benefits of Prime membership as a whole.

Related Reads:
Netflix may soon introduce a cheaper, mobile-only subscription plan at Rs 250 per month: Report