Flipkart also listed Moto G (3rd Gen), that the phone will be available in two variants, an 8GB and a 16GB version.
The third generation Moto G smartphone, which is expected to be launched in India tomorrow, has been leaked on Flipkart. As rumoured till now, the listing showed that the phone comes in two variants, an 8GB version with 1GB of RAM, and a 16GB version with 2GB of RAM. The e-commerce giant listed the 8GB variant at a price point of Rs. 11,999. The listing though came up for a very short time, and has been taken down already. The Moto G (3rd Gen) is expected to be launched alongside the Moto X (3rd Gen) in an event in Delhi tomorrow. The listing was first spotted by Techdroider.com.
Motorola has also arranged for a live webcast of the event on YouTube. The Moto G (3rd Gen) is also expected to come with the Snapdragon 410 SoC clocked at 1.4GHz, and although it isn't confirmed yet, the 16GB variant may be powered by a Snapdragon 615 SoC. Both the variants will have expandable memory, supporting SD card up to 32GB. The phone will also have a 5 inch HD display, along with the Android 5.1.1 operating system. All this comes with an IPX7 rating, meaning that the phone will be water resistant.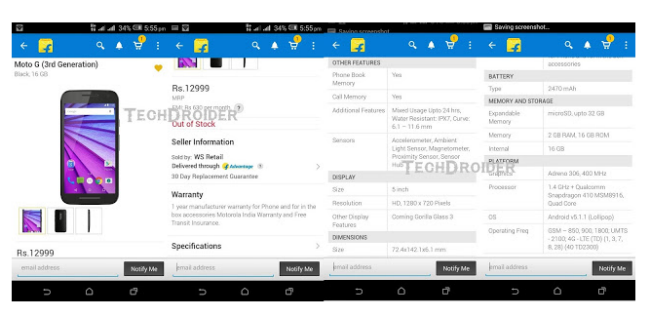 While Motorola has not officially confirmed that it will launch the third generation Moto G at its July 28 event, all the rumours point towards the same. In addition, Flipkart has also taken down its listing for the Moto G (2nd Gen), both on the app and website. This all but confirms that the company will launch the Moto G tomorrow. Interestingly, the second generation Moto X is still listed on Flipkart, at a price of Rs. 21,999. This could either mean that Motorola isn't going to announce the Moto X tomorrow, or that the company plans to sell the older generation at an even more reduced price alongside its newer variant. It is worth noting that Motorola brought the price of the Moto X (1st Gen) down to Rs. 17,999 when it launched the Moto X (2nd Gen).