A post on the Microsoft Partner site has revealed that the Mango update for Windows Phone 7 will take the version number up of the mobile operating system up to Windows Phone 7.5. While there has been no official version number announced by the company, numerous Microsoft departments and officials have let slip the details in the days since the MIX11 conference.
The Microsoft Partner page being referred to clearly stated the version number "Preview the New Windows Phone OS 7.5," and that can be seen in the below screenshot. Unfortunately, this is now the only place it can be seen, as Microsoft has updated the page, removing reference to the version number, just calling it the "Next Version of Windows Phone."

[RELATED_ARTICLE]Achim Berg, one of Windows Phone's senior officials, spoke to WinRumors, and confirmed that the changes to WP7 coming with the Mango update are more than enough to warrant a major change in version number, and, that the update will be the interim placeholder until Windows Phone 8 is released along with Windows 8. Currently, with the NoDo update installed, the version number reads as Windows Phone 7.1.
Reports are also coming in that Nokia is waiting for the Mango or WP7.5 update before it releases its first Windows Phone handsets this year, something that has been confirmed repeatedly ever since the first news of the partnership came trickling in.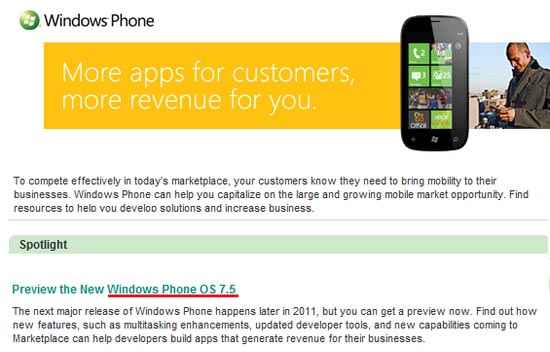 Image courtesy: WinRumors