In a last moment announcement, Meizu posted an invitation of a surprise "major" event to be held on December 19, in China. While Meizu has tagged the event as "something big happens", no further details have been given out, yet. The teaser image posted by Meizu on Weibo shows the event name, date, and three numbers – 900, 8000 and 35000. While a faint t-shirt is visible behind the number '900', the other two numbers are etched on question marks. This may hint at the company giving away official merchandise for its attendees and fans, but the main theme of the event remains debatable.
Speculations among forums and enthusiasts suggest that it may be a variant of the Meizu Blue Charm Metal smartphone. Launched in October 2015, the first variant of Meizu's Blue Charm series featured an all-metal build, along with a 5.5-inch 1080p display, Helio X10 processor, 13MP main camera, and a 3140mAh battery pack. If Meizu does launch a smartphone, it may be a mini version of the Meizu Blue Charm metal. Previously, Meizu Vice-President Li Nan had squashed rumours surrounding a mini version of the Meizu Pro 5, stating that it will launch only in 2016. As of now, it is not clear whether Meizu will launch a smartphone at all, or make some other announcement. The event may also focus on a lineup of major accessories, but with the event being termed "major" and "something big", such an option is slightly unlikely.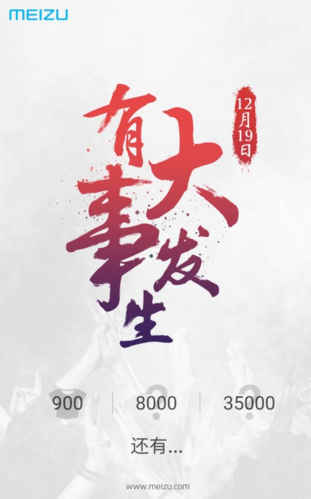 Meizu has so far managed to gain itself a reputation of manufacturing good smartphones with a smooth, flowing interface and a slightly different user experience from the standard Android smartphones out there in the market. Its present flagship smartphone, the Meizu Pro 5, features an Exynos 7420 SoC (the same that powers the Samsung Galaxy S6 Edge), 5.7-inch Full HD display, 21MP rear camera and 5MP front camera. It has two variants – 3GB RAM and 32GB of storage for RMB 2799 (Rs. 28,800), and 4GB RAM and 64GB of storage for RMB 3099 (Rs. 31,900). It was launched in late September 2015, and is expected to come to India in January 2016.
What do you think will this launch be about? Let us know of your opinion, or even, what you would like Meizu to launch here.