BARCELONA - LG on Monday added two new devices to its Optimus lineup, the Optimus 3D smartphone and the Optimus Pad tablet.
The 8.9-inch Optimus Pad (below) is an Android Honeycomb-based tablet running an Nvidia dual-core processor.
In creating the Optimus Pad, LG said it wanted a device that provided maximum playability and minimum portability. The company took a swipe at the Apple iPad, saying its 9.7-inch frame was too bulky, and the Samsung Galaxy Tab, which LG said was a bit too small.
LG said it conducted research and found that 8.9 inches is apparently just right. It is small enough that the user can use it with one hand, but large enough to enable an easy typing experience, the company said.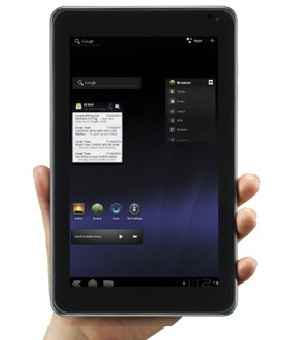 The Optimus Pad includes a full HD camera in the back to allow for a 1080p experience. The tablet actually has two 5-megapixel cameras in the rear to allow for 3D video capture. It also has support for HDMI, which allows users to connect the Optimus Tab to other devices, like 3D TVs so users can watch the 3D video they recorded.
Also on the 3D front, LG touted the LG Optimus 3D as the world's first dual core, dual channel, and dual memory phone that provides a true, glasses-free 3D experience. It includes a 4.3-inch screen and full HD support, including HDMI and DLNA. It will run the TI OMAP 4430 processor.
LG said the Optimus 3D will help boost the 3D eco-system. To help with distribution, the company has forged a partnership with YouTube to allow Optimus 3D users to upload their 3D content to YouTube's 3D channel with one click. They can also watch 3D content being uploaded by other users.
[RELATED_ARTICLE]LG said the Optimus 3D will be available in Europe starting in May. The Optimus Pad will be available starting in April, also in Europe. U.S. availability was not discussed, nor was pricing.
At CES this year, LG unveiled the Optimus 2X and the Optimus Black smartphones. The Optimus Black is a slim Android smartphone with a super-bright LCD screen, while the Optimus 2X is the world's first dual-core mobile phone.
Stay tuned for full hands-on with the LG Optimus 3D and Optimus Pad.

Editor's Note: We covered the LG Optimus Pad earlier this month, here, where it was introduced as the LG G-Slate, co-branded with major US mobile carrier, T-Mobile. Copyright © 2010 Ziff Davis Publishing Holdings Inc.