LG's first 3D smartphone, Optimus 3D, is selling at online shopping site Mobile Store for just Rs.
LG did manage to create buzz in the market with the launch of its first 3D Android smartphone, LG Optimus 3D. HTC soon followed with its HTC Evo 3D smartphone, prompting speculation that other manufacturers will join the 3D smartphone race as well - but that never happened.
Apart from Intex Avatar 3D, and the Spice M-67, there haven't been other 3D phones being launched in India. Coming back to the LG Optimus 3D, the device got decent ratings in our review. It has an excellent display quality, solid build and dual cameras. However, the hefty pricing (Rs. 37,000 at the time of launch) kept several consumers at bay. But now the Optimus 3D may find more buyers, as the device has been given a huge price cut and is selling for just Rs. 19,999 at the online shopping site Mobile Store. Other shopping sites Flipkart and Letsbuy are selling the Optimus 3D for Rs. 28,000.
To refresh your memory, the LG Optimus 3D, also known as LG P920, runs on Android 2.2 Froyo operating system (upgradeable to 2.3 Gingerbread) and is powered by 1 GHz dual-core ARM Cortex-A9 processor. It has 512MB of RAM. The Optimus 3D has dual 5MP cameras with LED flash and can switch between 2D and 3D modes while clicking pictures. The device comes with a 4.3-inch display with 800 x 480 pixel resolution, 8GB of built-in storage and a 1,500 battery. For connectivity, the device supports 3G, Wi-Fi and Bluetooth. Check out full specifications of the LG Optimus 3D here.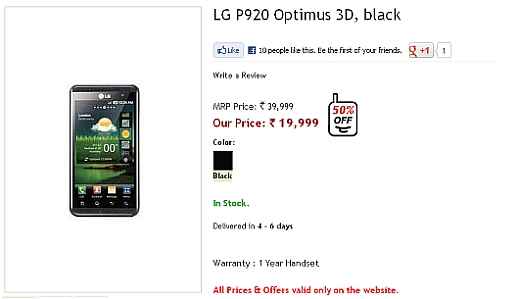 Do you think LG Optimus 3D at 20k is a good deal? Let us know in the comments section below:
Also read,